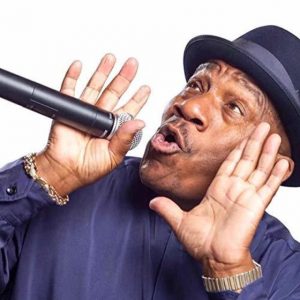 You can call it Blues or you can call it Soul.  Gospel artist Reverend John Lee Hooker, Jr. calls it The Good News!
Rev. Hooker, Jr is a 2X Grammy® Award-nominated singer whose soulful blues music is heard and loved across the globe.  Hailing from the musical bloodline of his late father, iconic Blues artist John Lee Hooker, Rev Hooker, Jr. has permeated Blues, Soul, and R& B music genres.  He is now planted firmly in Gospel music and finding favor on Gospel radio with his new single "Testify".
"Testify" is a self-proclaimed anthem composed by Rev. Hooker, Jr.  His lyrics describe a tumultuous past, followed by a life of redemption which is revealed through his soulfully captivating hook.
Listen To "TESTIFY"
"Testify" is produced and arranged by Larry D. Batiste (Charlie Wilson, The Dramatics, The Stylistics, Lenny Williams, Michael Bolton) and features guitarist Alvon Johnson.  The song also has a lyric video directed by Fabiane Rico that includes personal photos and moments from Rev. Hooker, Jr.'s amazing life, musical journey, and inspiring experiences.
"Testify" is impacting Gospel radio now with high impact and adds surging in the South and on the East Coast.  Rev. John Lee Hooker, Jr's. TESTIFY album is available now on all digital music outlets released independently via his Steppin' Stone Records label.  Fans can order physical copies of the TESTIFY at JohnLeeHookerJr.com on Friday, June 19.