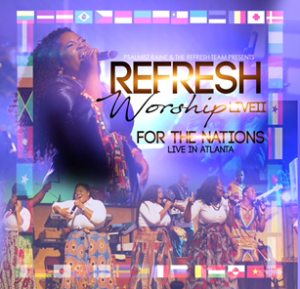 Psalmist Raine is known as one of today's most popular worship leaders. Recognized as a prophetic psalmist who provides an unforgettable worship experience, she has recorded three albums with mostly unrehearsed music, flowing in the spirit of the moment. Adding to her burgeoning repertoire of worship anthems, the award-winning artist has just released a brand new project, Refresh Worship Live II: For The Nations, Live In Atlanta. The project, the fourth release from Psalmist Raine, can be found on iTunes, Amazon and other digital music outlets.
Chock full of one praise and worship song after another, the project flaunts an international flair. Psalmist Raine was intentional in making sure the double CD, which includes 28 tracks, ministered from a global perspective. "Our goal for the night was for God to speak to the nations," recounts the psalmist. "We wanted the Lord to minister to the body of Christ, not just in the four walls of the church or even our nation, but to speak to the world. He did just that," she said. Psalmist Raine and the Refresh Team prayed for months about the recording, for every country of the world and the 7 mountains of influence (religion, family, education, government, media, arts and entertainment and business). She had a number of guest artists, prophets and apostles to share during the evening's live recording including Prophetess Sophia Ruffin, Prophetess Sharde Martin, Apostle Chris Montgomery, Apostle Bryan Meadows, Erick David Townsand, Dee Wilson and Rsa.
Refresh Worship Live II: For The Nations, Live In Atlanta contains many thought-provoking songs including "Cisterns" (featuring Dee Wilson) and "Grave Diggers" (featuring Erick David Townsand), a track that was preceded by the prophetic word "Dig It Out" by Apostle Bryan Meadows. The first single from the project was the uplifting and reverent track, "King of Glory". Psalmist Raine included a riveting remix of her popular tune, "We Send Up Praise" along with a new rendition of "Here We Are". Songs like "Pour/Flow Out", "No Lack/River Flows" and "Yes To The Call" set a sweet atmosphere of worship. Prophetic Releases are included in the live recording that beautiful complement the message of the songs. Psalmist Raine also featured instrumental tracks to several songs, perfect for worship teams to use in their churches. Singles "King of Glory" and "We Send Up Praise (Remix)" are both currently hitting Gospel radio stations.
A top 20 Billboard charting artist, the Chicago-based worship leader released three previous projects prior to the newest one: Believe Again – The Live Experience, Refresh Worship Live, and ToAbba. She has traveled the world leading people into the presence of God. Psalmist Raine has appeared on many Christian television stations including TBN, The Word Network and Cornerstone TV and is the host of The Morning ReFresh Show on WayofLyfeRadio.com on Tuesday mornings from 9AM – 12PM CT. She serves in her home as wife to Apostle Jalani McCaa and their three children, as well as at her home church, Life in Christ Family Worship Center, as Worship Leader under the leadership of Apostles Royal & Kimberly McClinton. She also trains other worship leaders through her ReFresh Mentorship Program. For details of her upcoming engagements or more information on Psalmist Raine, log on to www.BeReFresh.com.