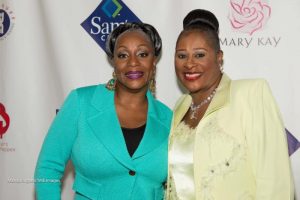 Go Getter Inc. and HC Productions proudly presented the Atlanta Gospel Special on Thursday, July 28, 2016. Taped for LIVE Television for Day Star Television, a $10,000.00 check was presented by Go Getter and HC Productions to the evening's scholarship award recipient, Christoph McFadden. With headliner honorees and performances by Regina Belle, Dottie Peoples, Kevin Lemons and Dorothy Norwood, The Atlanta Gospel Special gave its audience one of Georgia's signature African-American Gospel Tribute and Celebration that acknowledged the accomplishments and contributions of the local and national Gospel Trendsetters.
Hosted by Minister and Recording Artist, Rayshawn Carson (who was the visionary behind the operation) the evening also featured Global Inspirational and Gospel Independent Artists like: April Skinner, Brandon Holt, Candice Glover, Casey J, Damita Haddon Chandler, Duranice Pace, Eli Ensor, and more!  National Vocal Coach Jane Smith also made a special appearance.
This event not only showcased Atlanta Gospel Music Excellence, but it displayed the love for all humanity by presenting a tribute to the victims of the Orlando shooting victims, recent police shooting victims and the Black Lives Matters movement.
The evening's sponsors were: Sams' Club, Praise 102. 5, April K, SC Visionary Services, Mary Kay, JaXons Dessert Bar and Lounge,  Kingdom Brands USA, 108 Praise Radio, The C-Room and MD Walker Funeral.
About The Atlanta Gospel Special
The Atlanta Gospel Special was sponsored and presented by Go Getter Inc and HC Productions. Go Getters is an empowerment organization that provides tools for individuals to progress mentally, socially, physically, and financially in their personal lives, careers, and individual goals. HC Productions is a full service Entertainment and Production company that offers Event Planning, Implementation, and Execution. HC Productions has hosted events at House of Hope formerly known as Greater Travelers Rest; a letter of recommendation from Pastor Michael Woods, Chief Operating Officer can be provided if you request a referral.
?This event supports a worthy cause and a portion of the proceeds will help provide scholarship opportunities for young adults ages 16-21 who desire to further their education. In addition, hundreds of entry essays on "How has Gospel Music Transformed the World?" have been gathered from local Georgia Students. This event was taped live and presented to Day Star Television, the second largest Christian network in the world and will be broadcast on their network that are welcomed in 200 countries and over 600 million homes.