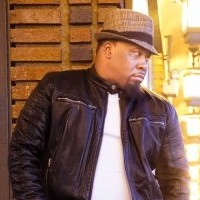 Armed with a captivating tenor voice multi-talented singer/songwriter new artist Lamont Sanders readies the release of his debut single "Forever Mercy" – set to impact gospel radio this week. "Forever Mercy" is the first single from Lamont Sanders debut album set to release later this year.
An emotional number dressed in a stirring string and piano-laced arrangement, the song speaks to the enduring love of God for his children. Sending listeners on a heartfelt journey from the moment it begins, "Forever Mercy" kicks into high gear with a powerful guitar solo that only takes the already high-spirited song to an even higher level by its end.
View Lamont Sanders Trailer Here:
Lamont started his earlier career as an R&B singer, songwriter, multi-instrumentalist. Singing before thousands, he held a successful record deal with Interscope Records under,Kenny "Baby Face" Edmonds, Andre Harrell, and Vincent Herbert.
However, he felt as if his life was still incomplete. Lamont Sanders came to himself after a concert while riding in a car, he remembers God confronting him with one question, "how many souls were saved"? It was from that point that he decided to make winning souls for the Kingdom of God, his mission.
His experiences and even shortcomings in life qualifies him above and beyond to stand before lost men and woman in sharing the message that, "God will find
them in whatever state they are in, and is able to change any circumstance for the good once we let go and let God".
To answer the call, Lamont Sanders not only engages audiences through motivational speaking, but is set to convert his testimony into a full-fledged album due later this year. Oft-referred to as one of music's "hidden treasure," Lamont Sanders believes now is indeed the time to stir up his ministerial and musical gift.