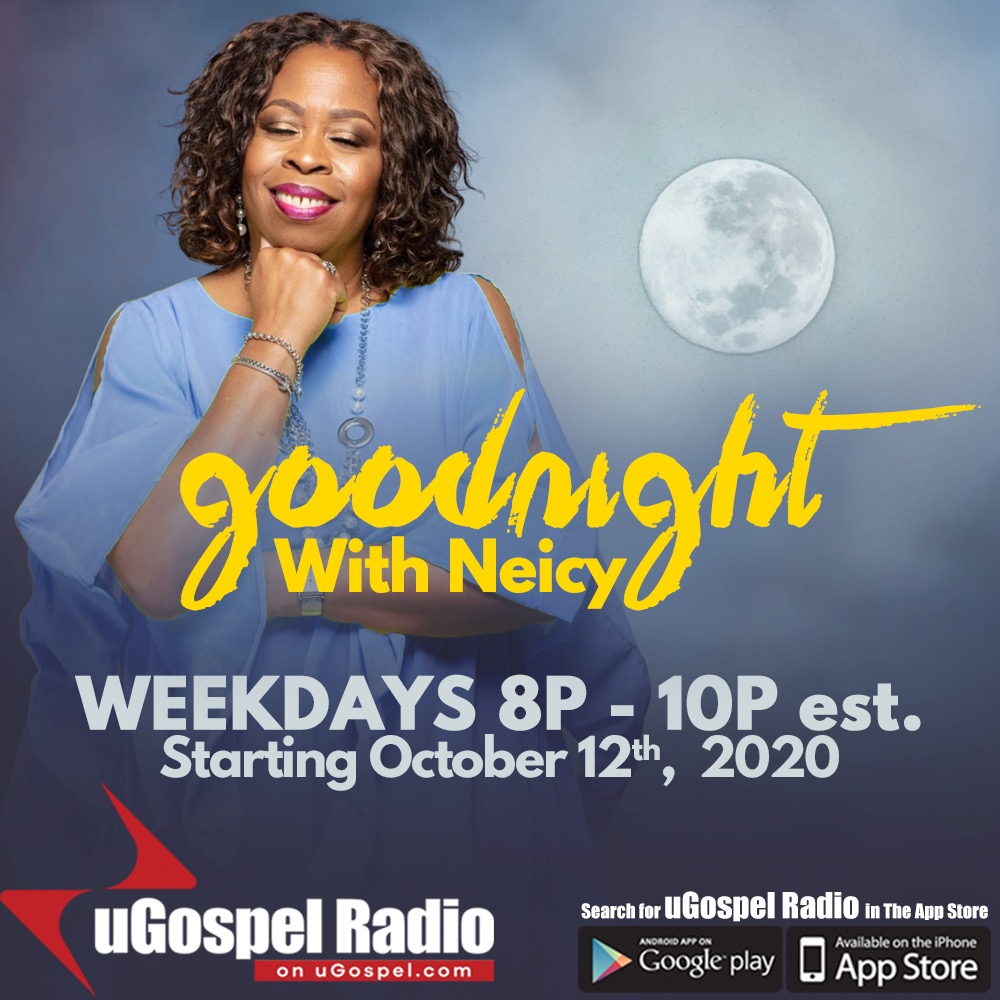 Come have a Goodnight with Neicy! Starting Weekdays October 12th, 2020 from 8pm – 10pm est. Checkout Neicy Tribbett on 2x Stellar Award Winning uGospel Radio on uGospel.com. Goodnight with Neicy will feature music that will help you unwind from the hustle and bustle of the day, Give you a "Good Night Snack" consisting of a Word from your favorite Preacher, Give you that Good Hymn of the Night and So Much More!
A native of our country's capital, Washington, D. C., Tribbett's Gospel roots where birthed from her rearing in the church. A credit to her two godly parents, the late Wilbur and Essie Belton. She is the proud mother of four GREAT MUSICALLY gifted children who are in the gospel industry as well, and seven grandchildren.
"I've grow up listening to Neicy Tribbett in the Philadelphia Area" Says Khalif M. Townes, President/CEO of Townes Media Group, LLC (parent company of uGospel). "We have been talking for a while about working together on uGospel Radio and decided that the time was Now. So Honored to have her team up with us here at uGospel Radio!"
Her broadcasting career has catapulted over a number of years. In 1990 she started as a "part-timer" at WIMG in Trenton. A progressive opening escalated her to WURD Love 900 in Philadelphia. It just kept getting better and better. In 1993 she moved on to WNAP 1110 AM in Norristown where she was an on-air personality and Music Coordinator.
In 1996 the bar was raised when she came to PHILLY'S BEST IN GOSPEL 1480 AMEN. She began her WDAS journey as an on-air personality and a music director. Her bubbly personality, love for the gospel music and listeners, overflowed onto the sister station on 105.3 FM for Sunday Celebration. This lady must know something about sports because she has "taken the ball and ran with it".
In December of 2003, due to downsizing of the company, Tribbett was released soon to find herself as the manager of her son, the gospel sensation National recording artist Tye Tribbett and GA. As manager, Tribbett traveled extensively around the world.
In September of 2010 after 7 years, Tribbett found herself in full circle back on the airwaves, Radio Ones' Praise 103.9.
Her experience in the industry has developed strong relationships with record companies and artists as well. She has been nominated and won several awards in the radio field corporately and individually. In July of 2013 Neicy T was honored to be chosen to team up with Bishop Hezekiah Walker, a long time friend, as co-host of the Hezekiah Walker's Afternoon Praise on New Yorks '1190 WLIB and later syndicated on AURN Inspiration Network.
Now once More you can Hear Tribbett each and every evening from 8p-10p  starting October 12th on uGospel Radio! Be Sure to Download the uGospel Radio App on your Apple or Android Devices. uGospel Radio is also accessible by visiting uGospel.com
Be sure to reach out to Neicy via email [email protected] with your request, praise reports ,etc.