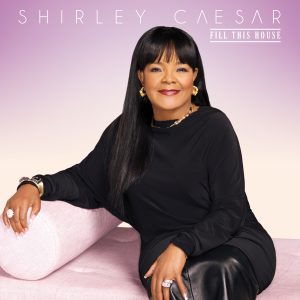 The Reigning Queen of Gospel, pioneering music legend Shirley Caesar reveals a bold new album with FILL THIS HOUSE, available for pre-order  now via iTunes and Amazon.  Unveiling the album cover and track listing, FILL THIS HOUSE is scheduled to be released on Friday June 3, 2016, and continues a thrilling 2016 in store for Caesar.
Launching her new album with the lead single "It's Alright, It's Ok" (feat. Anthony Hamilton), the 11-time GRAMMY®-winning icon kicked off the top of 2016 delivering a live performance on BET's "Celebration of Gospel" joined by Hamilton, with the hit single continuing to rise at Gospel radio.  Executive produced by Caesar, Stanley Brown, and Phil Thornton, Caesar's rich powerhouse voice fills the album's 11 tracks, inspiring spiritual rejuvenation and strength to survive through tough times on songs such as title track "Fill This House," "Mother Emanuel," "Survive This" (feat. Hezekiah Walker), "He Won't Fail You," and more.
The Gospel sensation remains an enduring musical influence, beloved by artists, world leaders and fans everywhere in her far-reaching ministry, and 2016 shows no signs of slowing down as she celebrates her 50th anniversary as a solo artist this year and hits the road performing worldwide.  Pastor Caesar's upcoming performances include the McDonald's® Gospelfest® 2016 "Honor Thy Mother" Mother's Day Weekend in Newark, NJ on Saturday May 7th, and the 2016 Allstate Gospel Superfest in Baltimore, MD on Saturday May 14th, among other dates.
One of the most recognized names and voices in Gospel music, Pastor Shirley Caesar has recorded over 40 albums to date, and garnered historic accolades including 11 GRAMMY® Awards, 14 Stellar Awards, 18 Dove Awards, and induction into the Gospel Hall of Fame.  Her most recent release is the 2013 album Good God, and she has been selected as a Hollywood Walk of Fame honoree for the class of 2016.
Shirley Caesar's new album FILL THIS HOUSE, is available for pre-order now:
FILL THIS HOUSE Track Listing:
"It's Alright, It's Ok" (feat. Anthony Hamilton)
"He Won't Fail You"
"Survive This" (feat. Hezekiah Walker)
"Fill This House"
"Need Him Now"
"Mother Emanuel"
"Prayer Changes Things"
"Be Happy (I Command U to Live)"
"Sow Righteous Seeds (Hymn)"
"Sow Righteous Seeds"
"Prayer Works"