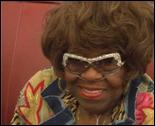 Florence, NC –The queen of Gospel is in the Pee Dee this week to mentor kids, honor a champion for education and entertain crowds with her.   Thursday evening, fans surrounded gospel music legend Albertina Walker at the Hilton Garden in Florence.
Walker has been singing for more than six decades and is the winner of a Grammy and three Stellar awards.   She's in town this week to talk with kids and to honor the late Mary McLeod Bethune in her hometown of Maysville in Sumter County.
Bethune started a school for black students in Florida in 1904, that became Bethune-Cookman University.
Walker says, "I'm just so happy to be a part of this celebration because this great woman that we're honoring I'm telling you, she was something special, she really really was."
Walker will cap off her visit to the Pee Dee with a special concert tomorrow night at the Florence Civic Center.
Tickets are still available and she promises to sing all of her greatest hits.