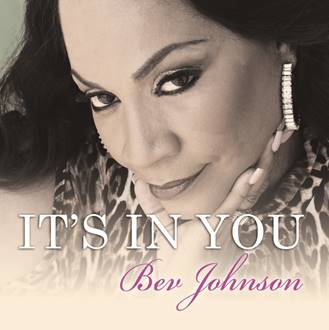 Evangelist and Praise & Worship Singer Bev Johnson knows that a song can be an answer to a prayer.  Singing in church for most of her life and behind some of Gospel music's top artists including Beverly Crawford and Dr. Bobby Jones, she's witnessed the power of a song and how God uses music to uplift.  With the release of "It's In You", a stunning inspirational ballad from her forthcoming CD of the same name, she wants to remind listeners that everything they need is in the Lord.  Returning after the successful release of her Christmas single in 2012, "Have Yourself A Merry Little Christmas with a Little Love and Jazz", Bev is making "It's In You" available for download on iTunes, Amazon and CDBaby.
"I want people to know that God is in everything I do," shares the Contemporary Gospel Artist and Praise & Worship Leader.  "It's in Him that I live, move and have my being.  It's in Him that I love and have peace.  It's in Him that I have freedom in Christ.  Everything I am and everything I do is all about Him."  The track, co-written by Stellar Award Winner Isaiah D. Thomas, who is also the project's producer, Roderick Giles and Bev, is a sweet and soulful song clearly reflective of the heart of the songstress.
Singing since the age of 5, the Dallas, TX-bred singer honed her vocals at the Greater Emanuel Baptist Church.  She was saved by the age of 8 and later in life, accepted her call to the ministry as an Evangelist.  As a member of the Celebration Choir under the direction of Sylstea Sledge, she was featured on the soundtrack of the BET movie, "He Ain't Finished With Me Yet".  She has also sung with the Northern Virginia Gospel Music Workshop Choir under the direction of Minister Maharold Peoples and opened up for the Virginia Black History Month Association Formal Dinner featuring keynote speaker, actress Vivica A. Fox.
She was named first runner-up of the Black Street Award, highlighting greatness within the Black community, and is a member of The National Coalition of 100 Black Women, Inc., Prince William County Chapter and Chaplain-Elect for Top Ladies of Distinction, Dale City, Prince William County Chapter. An entrepreneur, she is the CEO of Her Glory accessories, providing prayer cloths, prayer handkerchiefs, anointed oils, and christening gowns for infants.  In addition, she is the Founder and Minister of Music of Bev Johnson My Praise, My Worship Music & Arts Ministry.  She delivered her debut release, My Praise, My Worship, in 2009.  She plans to follow up that CD with her sophomore release, It's In You, in late 2014.
Bev Johnson is quite clear on her mission.  "I know that God has called me to go outside of the walls of the church," says Bev.  "Some feel that they are to stay in their home church to minister and if that's what God has called them to do, that's great.  But I know that He's told me that my mission is outside so that I can bring them in."