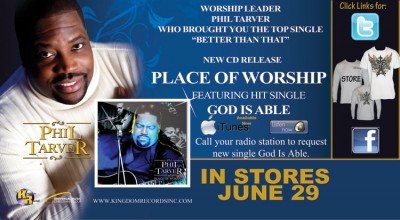 Chicago — Kingdom Records is celebrating the #4 debut on Billboard's Top Gospel Albums sales chart of Phil Tarver's highly anticipated third U.S. solo CD release, Place of Worship. This is the second highest single debut in Kingdom Records' history. The label's signature RIAA-certified gold-selling ensemble, Shekinah Glory Ministry, debuted at #2 on the chart with their October 2007 CD release, Jesus.
"Wow! To God be all the glory for this wonderful blessing. God is able, and I give Him all the praises for everyone who supported this project. Thank you," Tarver said on hearing the news.  "This is the biggest debut in Phil's history as a soloist," says Kingdom Records President Joan Sullivan. "His last CD came in at #14. Since that time, Phil has gone literally around the world, ministering and providing encouragement. From `Mighty God' and `Better Than That' to `God is Able,' his singles and his ministry have touched hurting people and left them with hope. We at Kingdom Records are excited about this project and Phil's future. The best is yet to come."
The set was recorded live before an overflow crowd of 3,000 fervent worshippers at Valley Kingdom Ministries International this past February. This brilliant collection is sure to solidify Tarver's standing as one of the most in-demand and celebrated praise and worship leaders in the world as the radio single "God Is Able"  continues its climb up the Media Base gospel chart where it's currently perched at #18. Tarver is the worship leader for the million-selling Shekinah Glory Ministry. He's recorded four solo CDs (including one only available in South America). His prior CD Draw Nearer features the Top 20 single "Better Than That." To learn more about Kingdom Records and its artists, visit www.kingdomrecordsinc.com .
Kingdom Records, Inc. is the fulfillment of the vision of Apostle H.  Daniel Wilson, Senior Pastor of Valley Kingdom Ministries International. Apostle Wilson conceived the idea from God to start a praise and worship ministry and to name it Shekinah Glory Ministry and to name the label Kingdom Records, while on sabbatical in the Arizona desert in 1999. The company was established in 2000. Kingdom Record's primary mission is to create music that pierces the kingdom of darkness and enlarges the Kingdom of God. The company is lead by music industry veteran Bernie McLean, Joan Sullivan, Junito R. Harris, Jr., and Michael Weatherspoon. In addition to the gold-selling Shekinah Glory Ministry and Phil Tarver, Kingdom Records has expanded its roster with the addition of Gospel's Lady of Soul Cynthia Jones, Tonya Baker, the Brown Sisters, and the legendary R&B group, The Whispers.