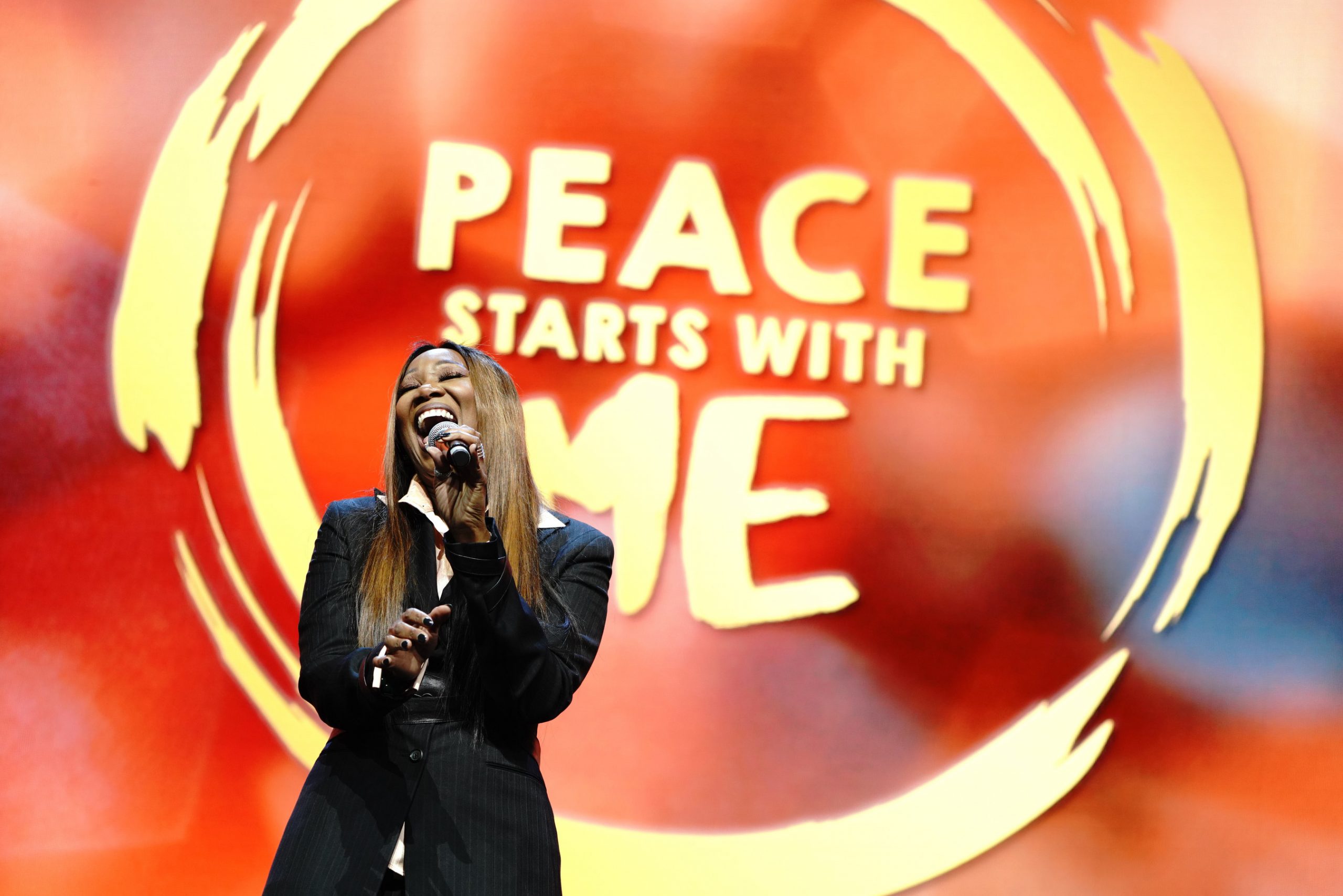 On November 12 at the Nassau Veterans Memorial Coliseum, more than 15,000 people came together under the banner of peace.  This diverse and multi-religious gathering came together as one unified body calling for peace and unity for America and the world.
The afternoon got off to a patriotic start with the Levittown/Island Trees, VFW Post 9592 Color Guard from Levittown, NY and the Black Veterans for Social Justice Color Guard from Brooklyn, NY, and a rousing version of God Bless America by Marine Sgt. Elizabeth Quinones.  The pre-show continued with a beautiful original dance created by Tony-award winning choreographer George Faison, and performed by Valeria Ivleva, principal ballerina and Deputy Artistic Director of the Baltimore Ballet.
At this point the atmosphere was set for peace.  Then came an explosion of energy and spirit when the Chicago-based Christian pop band Citizen Way performed two numbers, including their hit "Wave Walker".
Next on the stage was praise and worship icon Israel Houghton who roused the audience into a praise and worship frenzy. Not to be outdone, Grammy-award winning Bishop Hezekiah Walker and the Love Fellowship Choir, from Brooklyn, lifted the spirit even higher with his hit song "Souled Out" and his international anthem "Every Praise".
This was followed by an inspirational message by Bishop Noel Jones of the City of Refuge Church in Los Angeles, who challenged the audience to find the peace within.  Emmy-Award winning producer A. Curtis Farrow took the stage with his 5,000 voice choir and shook the foundation of the arena with Richard Smallwood's "Total Praise." The audience was left shouting, dancing and praising God, which set the atmosphere for the highlight of the show, keynote speaker and Family Federation for World Peace and Unification (FFWPU) Co-founder Dr. Hak Ja Han Moon, who delivered an uplifting message, calling for everyone to join hands in bringing forth a world of peace.
In honor of Veteran's Day, the hundredth anniversary of Armistice Day, and the veterans who have fought to serve America, Dr. Moon donated $13,000 each to the following four veteran organizations:  (1) Veterans of Foreign Wars(VFW), Department of New York, a national nonprofit that provides a wide range of assistance programs aimed at helping veterans of every generation; (2) Union Cyber, a national nonprofit network for veterans that prepares men and women for careers in cybersecurity; (3) Headstrong, a nonprofit in the NY area that offers free mental health services for post-9/11 military veterans; (4) Black Veterans For Social Justice, a nonprofit that assists military personnel in making a smooth transition from active duty to civilian life.
The evening was closed out by Grammy-award winning superstar Yolanda Adams who left the crowd in awe and excited about spreading the mission of peace.
This incredible rally was co-sponsored by the Family Federation for World Peace and Unification (FFWPU) and the American Clergy Leadership Conference (ACLC).
About Family Federation:
Family Federation is composed of families from around the world striving to establish a world of peace and unity among all peoples, races, and religions as envisioned by Rev. and Mrs. Sun Myung Moon and to embody the ideal of true love as taught in the Divine Principle, the core teachings of the Unification Movement. Family Federation champions three ideals: family, peace, and unification. Our mission statement is: "To guide America back to God through the teachings and Marriage Blessing of True Parents."
About ACLC:
The ACLC is a coalition of faith leaders working together beyond denomination to strengthen marriages and families, restore communities, and help America fulfill her destiny as a beacon of freedom, faith, harmony and prosperity. ACLC clergy share the hope of all humankind becoming One Family under God. ACLC started in May of 2000, when 120 clergy gathered to affirm its mission to unify the Body of Christ.