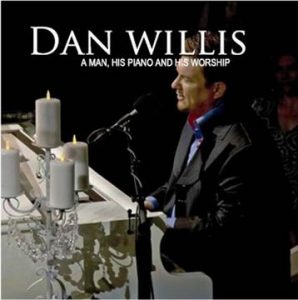 There is nothing more precious and satisfying than spending intimate time with The Lord.  You are invited to spend a moment in worship accompanied by a man and his piano.  Pastor, Songwriter, Musician, Author, TV Host Dan Willis presents a worship CD and DVD recorded live at Trinity Christian College in Palos Heights, IL.  The 11-song collection of Dan's favorite and original songs and hymns is a passionate musical experience that engages meditative moments of adoration, gratified praise and enthusiastic sing-along time for the audience and listeners.   A Man, His Piano and His Worship is Dan's unfiltered offering of his gifts and gratitude to God.
"Be Still and Know Your Time Has Come", featuring Dan's mentee and rising talentKevon Carter, is the first radio single from the release distributed by New Day Distribution.  The project also includes noted Detroit flutist Marvalinn Stull on Dan's cover of the popular Josh Groban hit "Raise Me Up", in addition to several beautifully crafted original ballads and gospel songs.  A Man, His Piano and His Worship CD and DVD will be available in May.
Dan Willis is Senior Pastor of The Lighthouse Church of All Nations in southwest suburban Alsip, IL which is also known as Chicago's "Bridging the Gap" Church. He has served over thirty years to his church that is one of the nation's leading multicultural ministries with nearly seventy nationalities represented in its congregation.  Dan Willis is also the host of the Emmy nominated late night Christian television show on TCT Network – "I'm Just Sayin".  
Dan began his journey in music and ministry when he was only 16.  Dan became the pastor of a small church and then formed the Pentecostals of Chicago Choir which boasted over 100 members and brought together the rich and the poor, African-Americans, Hispanics, Caucasians, and Asians, all with the goal and joy of sharing the gospel through song.
Dan Willis (And The Pentecostals of Chicago) catalog includes: Bridging The Gap(1992), Here's Where Broken Hearts Go (1994), We All Need Somebody (1997),Celebration 2000: Songs From The U.K. Tour (2000).