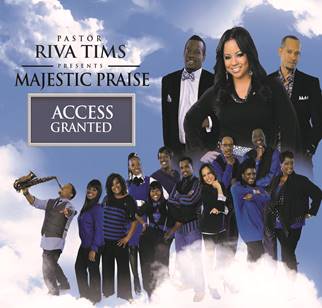 Renowned preacher and pastor Dr. Riva Tims presents Gospel ensemble, Majestic Praise, granting listeners full access to the new project titled, Access Granted.  With two singles already charting, the ensemble's debut project ushers in God's presence with its praise and worship emphasis while prompting believers to utilize their kingdom access granted through Jesus Christ.
The highly anticipated CD, scheduled to drop this summer, follows the release of the album's first single, "Incredible God".  It features the harmonious blend of the Majestic Praise team of Tims' church, Majestic Life Ministries, based in Orlando.  The 10-song project also highlights the talented vocals of nationally recognized artists such as Shirley Murdock, Preashea Hilliard, and John Wilds. Listeners are provided with a worship experience that includes live instruments, anointed voices, and original music that is promises to stir souls, empower lives, and change hearts.
"This music is sure to set an atmosphere for praise and worship," explains Tims.  "It provides a Sunday morning experience that can be felt on any day of the week. I truly believe that the Spirit of God is felt in every song and that the message behind each song will minister to every situation."
Dr. Tims is highly recognized as a preacher and prophet.  She is also known as co-founder, along with her former husband the late Dr. Zachery Tims, of New Destiny Christian Church.  Surprising to most however, she also possesses a love and passion for gospel music.  This passion led to the development of Access Granted.  With the help of Praise & Worship Director, Lydell Tate, of Majestic Life Ministries, Tims began working on the project immediately after hearing from God.
"God honored my desire to spread the gospel through music," she shares.  "Music has also touched me in a special way and as a pastor, I certainly appreciate how music sets the atmosphere to receive the preached Word of God.  It has a powerful way of touching hearts and breaking through emotional and spiritual barriers.  I wanted to develop a project that would have that same type of impact. I truly believe that Access Granted does that."
In addition to the riveting, "Incredible God", the CD contains tracks like the title tune, "Access Granted", inspired by a sermon by Tims and "When It All Falls Apart," the second single and the title of Tims' autobiography.