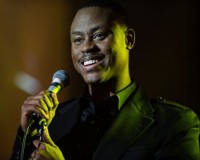 GRAMMY® Award-winning songwriter and Inspired People recording artist Pastor Charles Jenkins and his electrifying choir Fellowship Chicago have been on the road for two solid weeks spreading the word about its outstanding new album "Any Given Sunday" (Inspired People/Motown Gospel) that hits stores everywhere this week.
The promotional tour began in New York City with a round of personal appearances and media visits. From there the tour took the ensemble to Baltimore, MD; Atlanta, GA Columbus, GA; Birmingham, AL and Montgomery, AL. "It's been a great response," Pastor Jenkins says. "My wife and I have been amazed at the responses in all of the cities. In Columbus, there were women with walkers and canes holding up their phones to record the performances. IN another city, I was leaving out to get to the next event and people were giving me testimonies and shaking my hands. It's really been a great run."
This week Pastor Jenkins will be running through Nashville, TN; Raleigh, NC; Virginia Beach, VA; Richmond, VA, Washington, D.C. and Philadelphia before heading to Las Vegas for the Stellar Awards next weekend. Meanwhile, the New Orleans Brass Band-flavored radio smash "#War" is #6* this week with a bullet on Billboard Magazine's Gospel Airplay chart.
The new 13-track album features guest appearances from Rev. Clay Evans, John P. Kee, Beverly Crawford, Byron Cage, Jonathan McReynolds, Sean Hodo and Kevin Vasser among others. "Any Given Sunday is a celebration of the live worship experience! Our goal is to bring the diverse, powerful and impactful soundtrack of Sunday to every single day of your life," Jenkins adds. "Simultaneously, this album is a typical picture of `Any Given Sunday' at Fellowship Chicago, depending on which worship experience you attend."
An established Grammy® Award-winning songwriter and pastor of the 8,000-member Fellowship Chicago church, Pastor Jenkins burst into the national spotlight when he and the Fellowship Chicago choir's radio debut "Awesome" topped Billboard Magazine's Hot Gospel Songs chart for 22 weeks in 2012.  It won a BMI Award in 2014 for over 50,000 lifetime radio spins. For more information, visit www.charlesjenkins.music.net.