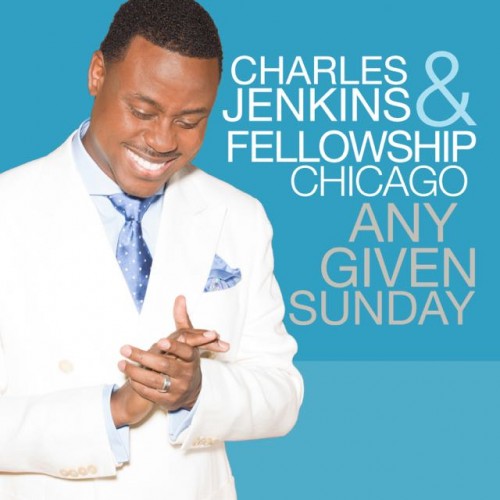 GRAMMY® Award-winning songwriter and recording artist Pastor Charles Jenkins is hitting the road with a "March Gladness" tour to promote his forthcoming sophomore album "Any Given Sunday" (Inspired People/Motown Gospel) that releases March 17th. Currently, Jenkins is riding high with the Top 5 Billboard Gospel Airplay chart smash "WAR." The New Orleans Brass Band-flavored call-to-action is a follow-up to 2013's #1 smash "Awesome" which spent 22 amazing weeks atop Billboard's Hot Gospel Songs chart and was cited as one of the Top Ten most played gospel songs of the year by Broadcast Music, Inc. (BMI).
The gladness tour launches this Wednesday, March 4th in New York City with a string of media visits, personal appearances and will close with Pastor Jenkins hosting the official invitation-only after party following the 30th Anniversary Stellar Awards television taping on Saturday, March 28th at the Orleans Arena in Las Vegas, NV.
March 5 – New York, NY.
March 8 – Manifest Wonders Christian Church, Baltimore, MD.
March 10 – Changing A Generation Full Gospel Baptist Church, Atlanta, GA.
March 11 – New Rising Star Baptist Church, Birmingham, AL.
March 12 – Montgomery, AL.
March 13 – Columbus Convention & Trade Center, Columbus, GA.
March 13 – St. John Baptist Church, Savannah, GA.
March 15 – Berean Christian Church, Stone Mountain, GA.
March 15 – Elizabeth Baptist Church, Atlanta, GA.
March 16 – Atlanta, GA.
March 17 –  House of Macon, Macon, GA.
March 18 –  Mt. Zion Baptist Church, Nashville, TN.
March 19 – House of Praise, Newton, NC.
March 20 – Norfolk/Virginia Beach, VA.
March 21 – Radio One Transformation Expo, Richmond, VA.
March 22 – TBA, Richmond, VA.
March 23 –  Philadelphia, PA.
March 24 – New Hope Full Gospel Baptist Church, Norristown, PA
March 28 – Stellar Awards Official After Party, Las Vegas, NV.
"War is a victory anthem, fight song, and an inspirational prayer," says Pastor Jenkins. "I believe everyone is fighting for victory in one way or another every day.  Sometimes life is like a boxing ring and Satan brings new and often multiple opponents into our lives. This song is a reminder of who you are, whose you are, and calls on your faith, strength, and hope in God. It is a reminder not to settle for defeat when victory is an option." Chicago's Spin Artist firm just cut a slick "WAR" music video that begins rotating on Aspire TV, Centric TV and other televised video outlets this month.