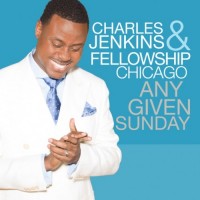 GRAMMY® Award-winning songwriter and Inspired People recording artist Pastor Charles Jenkins and his electrifying choir Fellowship Chicago have earned their second #1 on Billboard Magazine's Gospel Albums sales chart. This one is for the newly released project "Any Given Sunday" that features the rousing New Orleans Brass Band-flavored Top 5* radio smash "#War." The ensemble's debut set "The Best of Both Worlds" spent three weeks at #1 in the summer 2012.
"It's no easy feat to follow up a #1 album with another #1 regardless of genre," says Larry Blackwell, Motown Gospel Vice President/ General Manager. "We congratulate Charles Jenkins & Fellowship Chicago on this significant achievement. More importantly `Any Given Sunday' continues the vital legacy and rich heritage of Chicago choir music."
The 13-track collection features guest appearances from Rev. Clay Evans, John P. Kee, Beverly Crawford, Byron Cage, Jonathan McReynolds, Sean Hodo, Kevin Vasser, Tanesha Jefferson and the new Inspired People recording artist Donishisa Ballard.
"`Any Given Sunday' is a celebration of the live worship experience! Our goal is to get you singing bringing the diverse, powerful, and impactful moments of Sunday to every single day of your life," Pastor Jenkins adds. "Tons of prayer, study and hard work went into this project. We are very grateful for so much love and  support, God is Awesome Forever!"
An established Grammy® Award-winning songwriter and pastor of the 8,000-member Fellowship Chicago church, Pastor Jenkins burst into the national spotlight when he and the Fellowship Chicago choir's radio debut "Awesome" topped Billboard Magazine's Hot Gospel Songs chart for 22 weeks in 2012.  It won a BMI Award in 2014 for over 50,000-lifetime radio spins. The album "Best of Both Worlds" debuted at #1 on Billboard's Gospel Album sales chart, garnered 5 Stellar Awards, multiple Dove Award nominations, appearance at an Jay Z's Made In America and more."
Jenkins is currently on a 30 city Tour "Any Given Sunday." For more information, logon at www.charlesjenkins.com