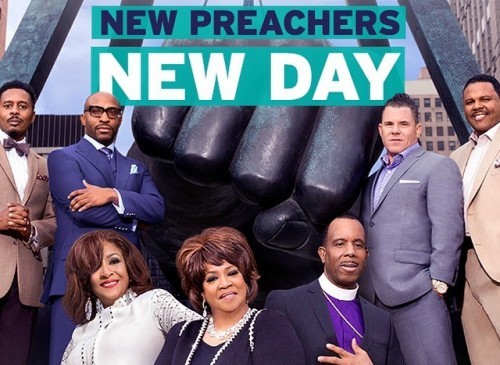 Marking the network's first season premiere on a Friday, Oxygen Media's "Preachers of Detroit" will debut on February 20 at 8pm ET/PT. The series focuses on seven men and women of the cloth who share their lives, transformations and triumphs in and out of the pulpit.  Leading up to the series debut, Oxygen will air two hour-long specials featuring Minister Deitrick Haddon from "Preachers of L.A." as he returns to his hometown of Detroit to reunite with his family and help the community.  In addition, fans can access even more exclusive content on Video On Demand including bonus footage and interviews with the cast beginning on February 12.
"Preachers of Detroit" follows the strong and resilient pastors who are not afraid to push boundaries in their communities from the challenges of being a woman bishop in a field that is dominated by men to keeping faith alive in a city that has faced tremendous hardship.  The Motown pastors include: Bishop Charles H. Ellis III, Bishop Corletta Vaughn, Pastor Tim Alden, Pastor David Bullock, Bishop-Elect Clarence Langston, Pastor Don William Shelby Jr. and Evangelist Dorinda Clark-Cole.
In the first special, "Preachers of L.A.: Deitrick Goes Home," airing on Friday, February 6 at 8pm ET/PT, Deitrick returns to his hometown in hopes of mending the rift between his wife, Dominique, and sister Zena. In the process he also brings his biological Troupe siblings into the Haddon household in hopes that they can all be one big happy family.
Then a week later tune-in on Friday, February 13 at 8pm ET/PT for "Preachers of Detroit: Meet the Preachers" when Deitrick is compelled to do something big for his lost city of Detroit.  He enlists the most prominent preachers in the Motor City including the cast of "Preachers of Detroit" to help produce a song and video to heal and support the people of his hometown. In this special, viewers will also get to know the cast of the "Preachers of Detroit" for the first time.
For more "Preachers of Detroit" content, fans can visit the official show site to see exclusive video, behind-the-scenes photos, news, interviews and bios.  While each episode premieres, viewers can see and interact with real-time content synched to the show, including chats, photos, bonus videos and more. In addition, fans should Like and Follow the official Preachers on Oxygen Facebook page and Twitter account using the hashtag #PreachersofDetroit.
"Preachers of Detroit" is produced by L. Plummer Media in association with Relevé Entertainment with Lemuel Plummer, Holly Carter and Chris Costine serving as Executive Producers.