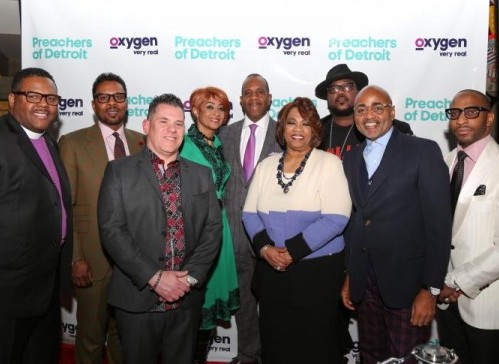 Oxygen Media hosted an Exclusive Sneak Peak Screening and Dinner for its new hit series "Preachers Of Detroit" at the Charles H. Wright African American Museum of History in the heart of Detroit.  Hosted by Bishop Greg Davis, the red carpet affair gave Detroit influencers and media a sneak peek of the upcoming season of motor city's new series "Preachers Of Detroit".
Guests enjoyed a sit-down dinner and an intimate Q&A session with cast members Bishop Charles H. Ellis III, Bishop Corletta Vaughn, Pastor Tim Alden, Pastor David Bullock, Bishop Clarence Langston, Pastor Don William Shelby Jr. and Evangelist Dorinda Clark-Cole. Special guests included gospel singer, Lexi. The "Preachers Of Detroit" season premiere will debut on Friday, February 20th at 8/7c.
For more "Preachers Of Detroit" content, fans can visit the official show site to see exclusive video, behind-the-scenes photos, news, interviews and bios. Like and Follow the official Preachers Of Oxygen Facebook and Twitter account using the hashtag #PreachersOfDetroit.
Check out pictures from the event below: