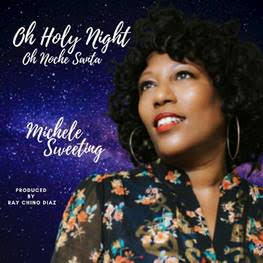 One of the best ways to celebrate the season is sitting in front of a roaring fire, sipping on sparkling apple cider and listening to Christmas classics playing in the background. Gospel artist and gifted songstress Michele Sweeting loves the spirit of the holidays, especially the celebration of the birth of the Savior. The consummate vocalist and graduate of the Big Apple's renowned Music & Art High School is known for her rousing performances including her first single, a rendition of "Center of My Joy," which launched her career and took New York City by storm. Now, the Pastor of The People's Church and the anointed worship leader has just added a brand new holiday favorite to the Christmas collection with the release of her new single, "Oh Holy Night." The song is currently available on all digital outlets.
"Oh Holy Night," penned in 1847 by Adolphe Adam, regularly tops the list of best loved Christmas carols. But few of those renditions are in English and in Spanish. That was a unique twist that Michele gave her memorable interpretation of the hymn, "Oh Holy Night/Oh Noche Santa." "I always knew that when I recorded the song, I wanted it to have that larger than life sound," shares the songstress. "Raymond Diaz, who has worked with Mariah Carey and Enrique Iglesias, and who I know through Sanctuary Church with Rev. Dr. Raymond Rivera, produced the song and gave it a brilliant orchestration; he incorporated a beautiful string arrangement capturing exactly what I wanted."
The track is already receiving love online and Michele is hoping that believers and non-believers alike will be moved by its life-changing message. "'Oh Holy Night' has always grabbed my heart because it's about the Savior's birth," says Sweeting. "During Christmas, many are focused on the popular culture of the holidays instead of being focused on the Gift on the Tree." The song is also special to her because she heard it at home as a child. She says, "When I was growing up, I remember my mother playing a number of versions of 'Oh Holy Night' by artists from The Carpenters to the Temptations to Barbra Streisand to Gladys Knight. So many artists have recorded the song and I wanted it to be part of my musical tapestry as well."
Michele has released a number of songs that have become part of her musical tapestry. Her first release, Center of My Joy, spawned the single – of the same name – and saw the artist peak on the New York Gospel charts for 6 weeks at the top spot. Center of My Joy was followed by Lamb of God, a sophomore release which solidified her standing as a Contemporary Gospel Recording Artist. That project was followed by her single, "Only by Grace," which dropped in the summer of 2019. Her latest single, "Only See You", peaked at #43 on the Billboard Gospel 100 Chart. Michele has been seen singing her songs on Christian TV, appearing on programs such as Babbie's House, Atlanta Live, Hour of Harvest and Bobby Jones Presents. She's traveled the world singing God's praises in places like Russia, Egypt, Trinidad and Barbados.
Known as a pastor, psalmist and educator, she recently launched The People's Church, a ministry birthed through COVID-19 under the covering of her Bishop, Rev. Dr. Raymond Rivera, founder of the Council of Holistic Christian Churches and Ministries (CHCCM). She, her husband, Rev. Louis DeCaro, Jr., Ph.D., and their son are the founders of Loaves and Fishes Ministries as well. "Professor Michele," as she is affectionately known, is also an adjunct professor at The City College of New York and John Jay College, where she teaches English and Literature. In addition, Michele is a Ph.D. Candidate (ABD) at Walden University and a two-time co-author of the anthologies, It's Possible! Living Beyond Limitations, and recently, Crystal Clear Sisters: Walking in Purpose.