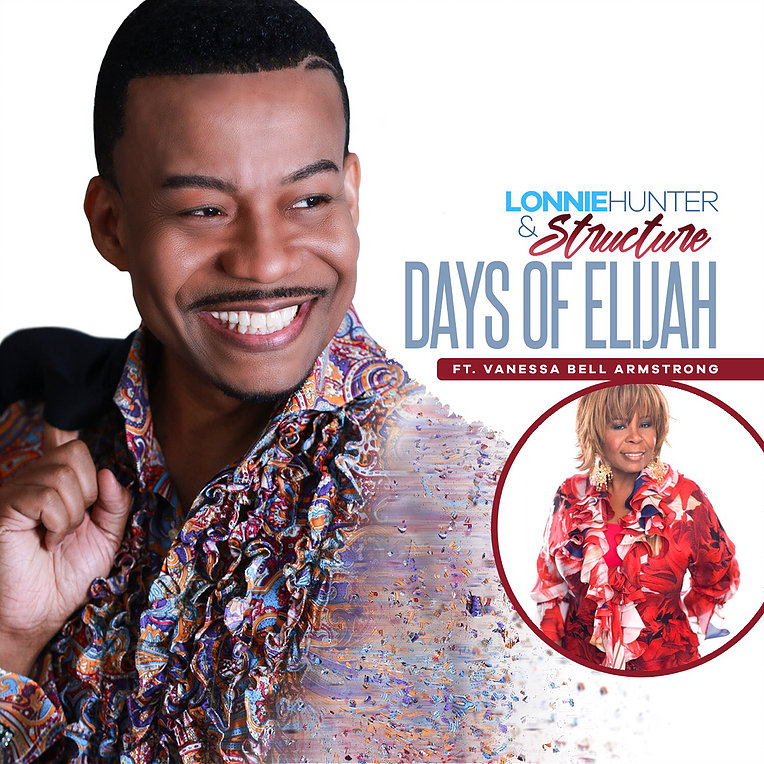 Days of Elijah, is written by Robin Marks,  and arranged and produced by Dr. Lonnie Hunter. The single will be available on all digital outlets, Friday, May 25th, 2018. Hunter is expecting to garner strong support from his 34,000 plus Instagram followers upon the digital release of the single.
Hunter has hit the mark with this collaboration, Days of Elijah features multi-Grammy nominated, Soul Train Award-winning powerhouse and living legend, Venessa Bell Armstrong. "What an honor to collaborate with Lonnie on this single his professional and anointed approach to God's music and his people is incredible," says Armstrong.   Several artists have shown their support for Days of Elijah as the digital release date approaches.  "Kudos to Lonnie for putting his own spin on one of my fav praise songs!" "I'm always excited to hear from Venessa Bell Armstrong, she's one of the most iconic voices of our time," says VaShawn Mitchell.
"Lonnie Hunter never fails to bring cutting-edge content that preserves the choir sound yet invokes corporate worship amongst praise & worship lovers," says Earnest Pugh.  "Lonnie Hunter is a fire starter who always brings his experience and energy to bear to heat up the atmosphere for an encounter with God. Things are no different here as he and his group Structure team up with the legendary Vanessa Bell Armstrong to reignite the classic Days of Elijah" says, Brian Courtney Wilson.
Hunter is a Stellar award-winning gospel recording artist, he has recorded and produced 6 Cd's with hits such as "Even Me" (the drip drop song), "Let's Dance," "He's Worthy" and Forever I will. He has hosted several major gospel events, and award shows to include the McDonald's Inspiration Celebration Gospel Tour (5 years running), and the 33rd Annual Stellar Gospel Music Awards pre-show. Hunter is one of gospel music's most beloved contributors to the genre.  Recently when asked Hunter shares his thoughts about the collaboration in his own words "I've wanted to do this song for years. It's a music dream come true; and to have Structure and the legendary Vanessa Bell Armstrong to join me makes the experience epically great, hope it blesses the listener as well. Choirmaster Ricky Dillard also weighed in "Lonnie and Venessa collaborates on this amazing cover Days of Elijah! Declaring that in these days that we are living ….that there's no God like Jehovah! This masterpiece is sure to be sung in concert repertoires regularly!"
Uncle G Records and Uncle G Promotions & Entertainment have partnered with Hunter on the project. "We are humbled to have partnered with Dr. Lonnie Hunter. I can't wait for all of my friends at radio to hear this one!" says, Greg Lyons, CEO.