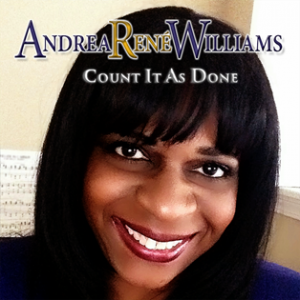 For the past 20 years, Andrea René Williams has been known as a music industry professional (including a GRAMMY Awards Manager), an award-nominated Gospel music publicist and a faith-based marketer. During her time in the industry, she's been blessed with opportunities to meet, work with and promote the best and brightest in the Gospel music genre. As much as she has been honored to help others fulfill their goals of music ministry, she is now following her own dreams, stepping out as a Gospel Artist and presenting music that has been in her heart for years. Her first vocal single is entitled "Count It As Done". The soaring power ballad encourages listeners to "speak and believe" over an orchestral bed of spirited and uplifting music. Pulling from sounds in Gospel, CCM, pop, and classical music, the track was produced by Williams' own, Gotta Praise Productions, and was penned, arranged, performed, engineered and mixed by the artist herself. The single, from the forthcoming project, The Believe Album, is currently available on iTunes, Apple Music, Amazon and all other digital music outlets.
"'Count It As Done' came to me in two separate dreams," explains Williams. "I fell in love with the melody and the beauty of it. It wasn't until God inspired me to add a string arrangement that it really came to life. But the most important part of the song is the message. The Bible says that we have not because we ask not; it also says that the power of life and death is in the tongue. 'Count It As Done' encourages the believer to trust God to do the impossible and to speak things into existence, things backed up by His will and His word. It would be a shame to remain in a situation that you could have spoken your way out of," says the songstress.
This release is one of the highlights of a career that has seen the industry professional support countless artists since her start in 1998. Andrea René Williams has been blessed to work with top artists, representing names like Pastor Charles Jenkins, Anita Wilson, Martha Munizzi, the late Andraé Crouch and Gladys Knight (for her most recent Gospel release) through her award-nominated PR and Marketing Firm, Tehillah Enterprises. She's gleaned from current and former choir directors Richard Smallwood, Byron Cage, Earnest Pugh, and Ricky Dillard. Williams is a 2019 Berklee College of Music Summa Cum Laude Graduate, who matriculated from the renowned institution last May with a Bachelor's Degree in Music Business. In 1998, she helped to start the Washington, DC Chapter of the Recording Academy, also known as The GRAMMY Awards. As the Project Manager there for 8 years, she hosted numerous GRAMMY Night Telecast parties, presented a record-setting Gospel music event called "Taking Gospel Higher" and helped to make the DC Chapter the fastest-growing chapter in the history of the prestigious awards organization.
A singer, prophetic psalmist, musician and producer, Williams is also the author of "Live The Life You Sing About: How To Live With Integrity In The Gospel & Christian Music Industry". She is a member of Ebenezer AME Church in Fort Washington, MD, pastored by Rev. Dr. Grainger Browning, Jr. and Co-Pastor Rev. Dr. Jo Ann Browning. She is a member of the Levitical Voices at Ebenezer under the direction of GRAMMY Award Nominee and Stellar Award Winner, Ricky Dillard. She has led songs at her church and has performed at sporting events including singing the National Anthem and "God Bless America" for the Washington Wizards, the Washington Mystics, the Capital City Go-Go and the Southern Maryland Blue Crabs. She released her first single, an instrumental cut, entitled "Won't Work", in April 2019. Look for her full project, The Believe Album, to drop in spring of 2020. For more information on Andrea René Williams, log on to www.singitandrea.com. Connect with her on Facebook, Twitter and Instagram.