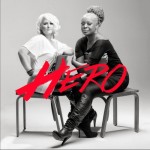 360MusicWorx in partnership with Capitol Christian/Universal Music Group makes history by announcing the signing of music's first ever interracial female duo AsOne. Comprised of talented singer/songwriters Lisa Wright and Theresa Bailey are the label's newest emerging musical act. AsOne will release their debut single "Hero" featuring Lamar Campbell and Spirit of Praise to gospel radio on March 16th and to all digital outlets in May.
A champion of a tune lined with a stirring guitar arrangement and impassioned vocal displays, "Hero," charges forward as a triumphant ode to God's undefeatable grace and mercy. With lyrics set to conquer hearts for their touching reflections on his everlasting love.
While their joint outing is being greeted with high anticipation, Lisa and Theresa are music veterans in their own rights. Already collecting critical acclaim from every corner of the country via her solo efforts, Lisa is a celebrated songwriter whose lengthy credits include music for Brooklyn Tabernacle Choir, Colorado Mass Choir, and Jana Long of Avalon. Likewise, Theresa, a graduate of the world-renowned Berklee College of Music in Boston, is a highly sought after professional background vocalist for Queen Latifah, Chaka Khan, Jennifer Hudson and many more.
Their musical union first proved itself a powerful alliance when Theresa was tapped to write for Lisa's then-scheduled solo project. Their chemistry was so potent they opted to form the group AsOne instead and were immediately signed. In addition, after catching the eyes and ears of Disney, the group made their performance debut by opening on the grand stage at the world renown Disney castle for their annual "Night of Joy," which also featured the likes of top acts Lecrae, Casting Crowns, Chris Tomlin, and more.