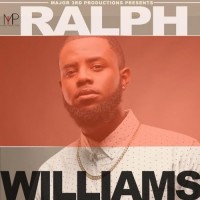 After garnering nationwide buzz as one of Urban gospel's most promising acts, rising Stellar Award-nominated singer/songwriter/choreographer Ralph Williams readies his long-awaited, self-titled debut EP for digital release on March 17th. Already taking the industry by storm with his signature brand of rhythmic-tinged gospel, the New York native's new project boasts an eclectic fusion of Urban contemporary inspirational, progressive R&B, pop, and more while never overshadowing his anointed message.
The set is kicked off by its guitar and piano-laced lead single "In Spite Of Me," written and produced by the hitmaking production team Gerald Jones, Justin Francis and Carlos Woodard of Major 3rd Productions (Darwin Hobbs, Lowell Pye, Virtue, Amber Bullock, Damita). Immediately becoming a fan favorite for its heartfelt lyrics, the tune not only demonstrates Williams' musical diversity by drawing sonic inspiration from multiple genres, but also shows off his highly touted vocals.
Later catching the eye and ear of gospel superstar Earnest Pugh, the dynamic song landed amongst the work of some of the industry's brightest new talents via the critically acclaimed 2014 release EARNEST PUGH PRESENTS: GOSPEL'S RISING STARS compilation album. Hoisted to #4 on Billboard's Top Gospel Albums chart upon its debut, the project is now contending in the "Special Event CD of the Year" category at the 2015 Stellar Awards.
"In Spite Of Me" joins a host of noteworthy numbers found on Williams' self-titled EP including the hand-clapping pop praise tune "Let Me Be," the R&B-driven "He Will Come Thru," and the must-hear uplifting "All the Glory." Filling out a tracklist of dynamic, high-spirited tunes that are sure to engage listeners in an unapologetic praise-fest, the EP comes as the latest notch on the newcomer's impressive resume. Music lovers first took note of the Major3rd Productions recording artist when he won 1st place on the "In The Mix Talent Search," which was aired live on LifeZoneTV. Since then, his talents have taken him to features found on Jeffrey C. Woody & The Restoration Choir's acclaimed recording as well as on stages in front of some of the industry's most revered acts including Donnie McClurkin, J. Moss, Karen Clark Sheard, Twinkie Clark, Tamela Mann, and more.
Now, Williams invites listeners to join him on a musical journey via his debut EP that is more poised than ever to lift his talents to their highest heights.