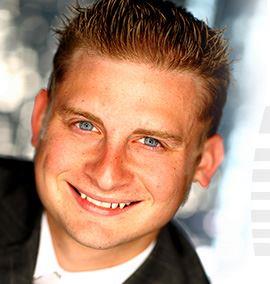 Music executive Scott Godsey is joining Daywind Records as its Vice President encompassing A&R responsibilities, ushering in a new season for Daywind Records and its family of artists. In its 26-year history, Daywind has only had two A&R directors. Both were seasoned professionals and took Daywind to the next level in Southern Gospel music. In his new role, Godsey will give creative direction to Daywind's artists, seek out the next generation of Southern Gospel music ministries, and develop audio, video, digital, merchandising, and live experience ventures to bring Daywind's artists in closer relationship with their expanding audience.
"I am thrilled to work with Scott to create a true next generation recording company that will continue to reflect Daywind founder Dottie Leonard Miller's ministry focus for the company," announced Daywind President, Ed Leonard. "Scott has a long history in Southern Gospel music. He grew up on the road with his father's group, the Northmen, and has spent the last several years learning the Southern Gospel music business and developing new ways to expose Gospel music through new formats. I am most excited for the Daywind family of artists and their fans. Bringing Daywind's resources and infrastructure together with Scott's imagination and drive will be an amazing combination."
Scott Godsey shares, "I am excited to join a company that shares my passion for expanding the audience of Southern Gospel music. I have been blessed with many opportunities and I knew that this was one I could not pass on. I am eager to work with the Daywind artist roster and integrate strategies that will effectively reach people."
For the past few years, Godsey ran his own firm, Godsey and Associates, which specialized in music and video production, internet marketing, and social media services. He created and produces the "Music City Show," which features the top talent in Southern Gospel music and currently airs on RFDTV Network, Familynet and Heartland. Godsey also served stints as vice president at both the Eddie Crook Company and Homeland Records. Godsey and Associates will remain in operation for special projects that do not fall under Daywind's scope of operations, and Godsey will continue to produce the "Music City Show".
Daywind Records is home to a stellar family of artists that includes Karen Peck and New River, Greater Vision, Brian Free and Assurance, Legacy Five, Wilburn and Wilburn, Adam Crabb, the Mark Trammell Quartet, the Browders, the Nelons, the Hoskins Family, the legendary Blackwood Brothers, Watts Rowsey and Bean, and Amber Nelon Thompson. Daywind is distributed to Christian retail by New Day Christian Distributors (www.newdaychristian.com) and to the general market by Select-O-Hits.