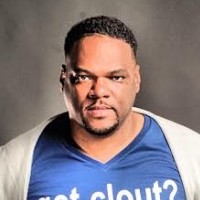 Stan 'STANtastic' Jones steps further into his musical career with the formation of Clout Music Group (CMG), his first independent label.
With current and past successes including a record-breaking 92 consecutive week run on the Billboard Gospel radio chart by hit radio single "All I Need" (performed by Brian Courtney Wilson; written & produced by Stan Jones) and the title track to Pastor Marvin Sapp's recent release You Shall Live which recently debuted at #1 on the Billboard Gospel albums chart, Jones makes a smart move and takes advantage of years of hard work.
Determined to preserve the essence of Gospel music as a genre that instills faith and hope, Jones is excited about the future of CMG and its first artist signing, Durward Davis.
When asked about Davis he shares, "He's a phenomenal vocalist and great communicator through song. I'm excited to launch my label with his project and to witness what God will do through the unification of our gifts."
While CMG continues to take shape, Jones and his team are busy preparing for the Durward Davis project along with producing and writing for the upcoming album from Melvin Williams of the legendary Williams Brothers.
The distribution partnership for Clout Music Group in its final stages and further announcements and signings from the label are anticipated through the end of the year.