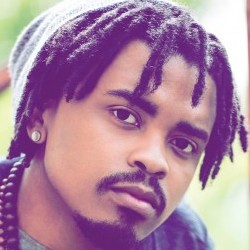 Multi-talented Pop/Soul recording artist Royce Lovett will simultaneously release two debut commercial singles – "Show Me Love" and "Write It On The Wall" – on Friday, July 10, 2015 to all digital platforms.
Royce, an emerging singer/songwriter whose guitar driven melodies and lyrical skills garnered him awareness on the underground independent artist circuit, is poised to bring his thought-provoking messages of love, hope and unity with his two debut releases from his forthcoming album, WRITE IT ON THE WALL.
"Show Me Love," is a feel-good song that unites elements of old school hip-hop with progressive R&B. The song promotes a positive message about building confidence and the belief that all possess an innate power that is God's love, inside us all. "Write It On The Wall", the album's title track, has a thought-provoking message and affirms the truth that God's love supersedes any hindrance present in today's society.
Armed with an unmistakable voice, a spirited guitar, and lyrics drawn from the depths of this soul, Lovett brings a much-needed breath of fresh air to music. With lyrics that are thought-provoking and socially conscious, Royce's songs are not simply shared in churches, and among youth groups. He takes his music and message outside the norm; singing, rapping, and quoting scripture as he performs in nightclubs, bars, and coffee shops.
Driven by his faith in God and a lifestyle of worship, Royce's distinct offering to music is guaranteed to knock speakers and resonate within the hearts of listeners
Royce will be on the road this summer and fall promoting his new singles including an upcoming performance at the Long Beach Gospel Festival on July 19th in Long Beach, California.