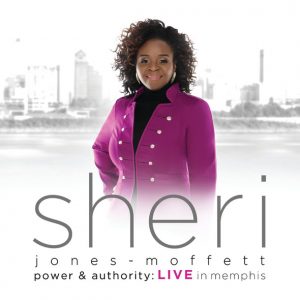 Motown Gospel recording artist SHERI JONES-MOFFETT is set to unleash her long awaited new album POWER & AUTHORITY: LIVE In Memphis on April 1st. The highly anticipated follow-up to her 2010 GRAMMY® nominated debut Renewed, POWER & AUTHORITY thematically picks up where its predecessor left off by weaving together a series of worship-filled musical anecdotes.
Unlike its predecessor, POWER & AUTHORITY opts out of the gloss of studio recording to bring forth a collection of raw, spirited live recordings that connect on a deeper level in the now.
"After Renewed, I want every project that I do to tell a story about the space that I'm living in," Sheri explains. "My mentor, Donald Lawrence, told me, 'Let every moment stand alone. Don't try to make the next moment look like this one.'"
POWER & AUTHORITY lives up to its billing on the strength of the ten numbers that line its track listing. Produced by Grammy-award-winning record producer and Sheri's label-mate Myron Butler, the album, from its very start, sees Sheri driving down a very personal road of praise – a feat evidenced by its fiery opener "Keys To the Kingdom". Masterfully navigating POWER & AUTHORITY as a musical journey set to take listeners on an unforgettable voyage, "Keys" acts as a renewed nod to the energetic classic COGIC shouting tune.
However, "Keys to the Kingdom" isn't the only gem on the album that sees the powerhouse songstress unlock her unparalleled spin. Also paying a musical revisit to Yolanda Adams' "Wash Me" and Milton Brunson's Thompson Community Choir hit "There Is No Failure," fans were particularly delighted to hear a live remake of "Grace of God"– a favorite from her inaugural project.
Other standout tracks include the album's first singles "Shine" and "Faith To Believe." A radiant kick off to radio for Sheri's latest offering, "Shine" has already proven itself a beacon for listeners in need of spiritual uplifting. Placing the spotlight back on Sheri's missed vocal displays and heart-healing lyrics, its sonic illumination was only accented by its follow-up "Faith To Believe."
The aptly titled POWER & AUTHORITY commands the listeners attention and unmasks a "Moffett moment" of music and ministry. The marriage of the two concepts has been a mainstay in the singer's life as her upbringing has been decorated by the culturally rich city of Memphis – a gospel haven.
"I didn't realize until I was doing my record how much of a rich history I came from," she shares. "With this album I wanted to take some of that and celebrate it."
Join Sheri as she energetically gifts gospel music lovers with the reminder of their true POWER & AUTHORITY via her new live album, in stores April 1st.