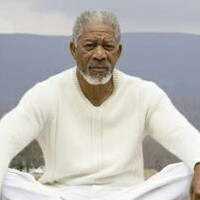 Oscar winning actor Morgan Freeman is set to embark on a new role, which will be a personal quest of his own. Freeman, who's played God in multiple films, will travel the world in search of the Almighty for National Geographic Channel's new docuseries, "The Story of God." The upcoming series is set to air in 2016 in 171 countries and 45 languages.
"The Story of God" will feature Freeman participating in religious experiences and rituals all over the world. The show is billed as an exploration of mankind's quest to understand the divine. Freeman will become a test subject in scientific labs to examine how neuroscience and cosmology are intersecting religion.
Each episode will center on one big question about the divine and how the mysteries impact people from every Faith. Freeman will visit sites including Jerusalem's Wailing Wall, India's Bodhi Tree, Mayan temples and the Lakewood megachurch in Texas. He will also travel with archaeologists to uncover long-lost religions like those practiced at the 10,000-year-old ruins at Gobekli Tepe in Turkey and the ancient Celtic monument at Stonehenge.
"The story of God is one of the greatest mysteries and most important ideas in the world," Freeman said. "For me, this is a personal and enduring quest to understand the divine, and I am humbled by the opportunity to take viewers along on this incredible journey."