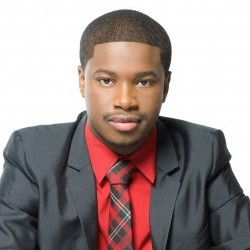 Maurice Griffin is one of Gospel Music's rising stars.  His signature sound and incredible vocal range have carved a notable place for him in a sea of independent artists.  With his new musical installment BELIEVER, Maurice continues to expand his musical aptitude, deeply connect with fans and not only deliver excellent work, but reveal more and more about himself and his ambition to make his mark in music history.
The breakout star of BET's Sunday Best competition season two took some time to share more about his BELIEVER EP and offers these words:
At the time I started writing BELIEVER, I saw that people were starting to give up on themselves and on what God had blessed them with. Regardless of state of the economy or what your current situation might be, God has a purpose for you. We can't live by what we see or what we think might not be for us.  God intended us to go into unknown territory because we have the capacity to do the unthinkable through him.  He created us to be creative – it's in you.  I wrote and produced this project to pull it out of everyone who listens and to encourage everyone to believe in themselves.

And for me, as an indie artist, there are benefits and disadvantages.  Of course, by doing it on your own, you don't have a record label's support or the resources that come with being on a label. It can sometimes be hard to move forward when you want to.  Then you may see peers moving past you at the moment and those things can put a damper in your spirit.  But it's not meant for everyone to be signed to a record label.  God has blessed me as an indie artist/label and I've written about some of these experiences in this project.

So, when I tell you, don't give up! – I mean it.  There are benefits with your name on it.  Continue to trust God – be a Believer!
"Hear Us" is the current radio single from BELIEVER which is available on all online digital music outlets.  Maurice has officially released a companion lyric video to "HEAR US" viewable on Youtube.  "Hear Us" is making an impact at Gospel radio and with the Gospel music industry.
"Maurice's voice, coupled with this message 'HEAR US' is the perfect sound our nation needs in the state that we're in," says singer DeWayne Woods, Soul Therapy Music Group Recording Artist. "Maurice has the ability to make each lyric carry its own unique power. I hope to hear praise teams all over the world singing this incredible song!"
Also for his BELIEVER EP, Maurice has received four 2015 Rhythm of Gospel Award Nominations: Best Performance By Urban Contemporary Artist, Praise and Worship Song of the Year ("Hear Us"), EP/Digital Album of the Year (BELIEVER), and Urban Contemporary Male Vocalist of the Year.
Maurice has proven his audacious will to attain all that God promises. He continues crisscrossing the country with an aggressive appearance schedule promoting BELIEVER, but most important, sharing his audacity, faith and inspiring everyone to BELIEVE!