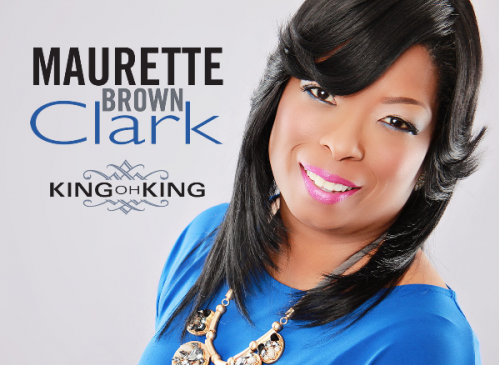 SRT Entertainment is set to release newly signed two-time Stellar award winning recording artist Maurette Brown Clark's new single, "King Oh King."
"King Oh King" is the debut single from her upcoming fifth solo album and will be officially released digitally online, Tuesday, April 14, 2015; However, music enthusiasts can take a first listen and pre-order single now on iTunes, Amazon & Google Play.
Produced by Stellar Award nominated  producer Kenny Shelton, and co-written by Shelton, Brown Clark and Kristin Ringgold, "King Oh King" is purely a refreshing, uplifting, adoration of praise experience unlike anything you've ever heard before musically from her.  It's apparent that she is stretching herself, her ministry, and  "King Oh King" undeniably exemplifies that fact.
Maurette Brown Clark, the award-winning Gospel starlet has hit Billboard's Hot Gospel Songs Chart Top 5 three times in recent years of her career with her singles "I Hear The Sound (of Victory)," and #1 singles "One God" and "It Ain't Over (Until God Says It's Over)," setting the stage for her highly anticipated new single, "King Oh King." Her fourth album, "The Sound of Victory" was released to acclaim from critics and fans, garnering a career-high Top 10 album debut at #7 on Billboard's Gospel Albums Chart.
Affectionately referred to as The Princess of Praise & Worship, Maurette Brown Clark is in-demand for her musical ministry. She amassed many extraordinary years in the Gospel music industry, with hits including "Breaking of Day," "Just Wanna Praise You," "Even in the Rain," along with "Calvary" and "Angels" recorded with Richard Smallwood and Vision.  Growing up in Long Island, NY singing with her family group The Brown Singers, Brown Clark remains committed to expanding boundaries and uplifting others in faith as a singer, songwriter, musician, producer, wife and mother.  She continues to tour across the country and worldwide sharing the Gospel including the UK.
Maurette Brown Clark, states "I am very excited and optimistic about this next move in my musical journey. To be working with D.A. Johnson again is a joy and I look forward to what God has for SRT Entertainment and my ministry. #forward"
SRT Entertainment is indeed honored to partner and present Maurette Brown Clark's unique revered musical ministry to the world.