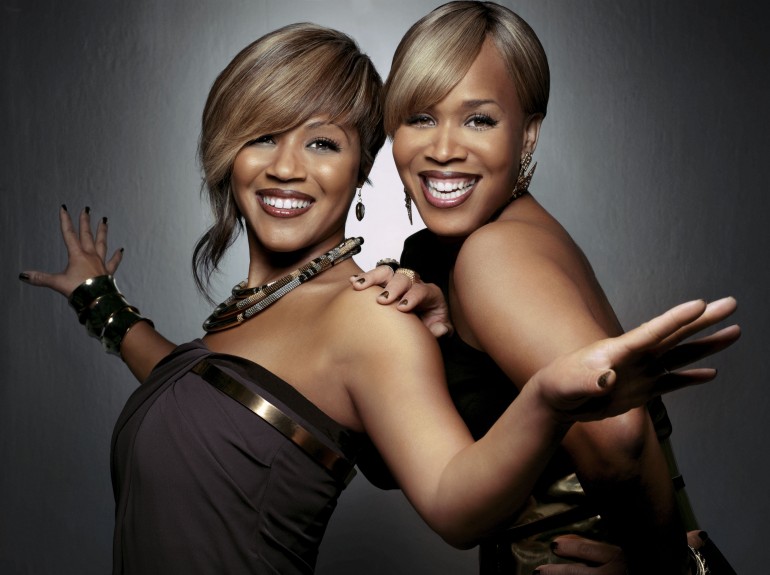 This past weekend was most incredible for My Block/Columbia Records multi-Grammy Award-winning recording act Mary Mary.  Last night, the inspirational duo took top honors as Best Gospel artist at the annual BET Awards, one of the biggest events of the awards season, held in Los Angeles.
During the awards show, Mary Mary performed in a rousing rendition of the late Bishop Walter Hawkins' "Thank You," alongside Donnie McClurkin and Deitrick Haddon.  The classic gospel song was performed in tribute to Malaco Records, whose headquarters were recently destroyed in the Southeast's tornado disaster.  Tapping into the roots of many in the celebrity-filled audience, Mary Mary brought the crowd to its feet, touching the hearts of those at LA's Shrine Auditorium, as well as the huge television viewing audience.
On Friday, June 24th, the duo – sisters Erica and Tina Campbell – were honored with the prestigious ASCAP Golden Note Award during its 24th annual Rhythm & Soul Music Awards, an invitation-only event, also held in Los Angeles.  The ASCAP Golden Note Award is presented to songwriters, composers and artists, who have achieved extraordinary career milestones.  Mary Mary was honored for breaking barriers and helping to take gospel mainstream.  Before accepting their award, the dynamic duo treated the audience to a performance of their rousing hit "Yesterday."
Past recipients of the Golden Note Award include superstars Sean "Diddy" Combs, Alicia Keys, Jay-Z, Quincy Jones, Lionel Richie and more. (ASCAP is the American Society of Composers, Authors and Publishers.)
Mary Mary's sixth studio album, SOMETHING BIG, debuted in the Top Ten on the Billboard Top 200 Albums chart earlier this year.  Upon its release, SOMETHING BIG immediately shot to the top of the iTunes R&B Albums chart, and received critical raves from the press.
USA Today boasted SOMETHING BIG as "celebratory and thrilling," earning the duo 3 ½ out of 4 stars. People Magazine named the title track "Something Big" as "a joyous testimony," rating the album 3 out of 4 stars, while Ben Ratliff of The New York Times proclaimed, "Listening to the record, you never forget the idea of gospel as a common denominator in American pop…These songs aren't all explicitly about religious devotion, but they are all about striving, perseverance and straight talk…"
Columbia Records is currently readying the new single, "Survive," which will be added to Urban A/C radio stations; a video for "Survive" was filmed in Los Angeles this past Thursday. The new song will follow the smashing success of the first single, "Walking," the video of which is currently #2 at VH1 Soul.