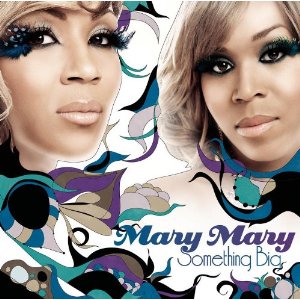 SOMETHING BIG is the sixth album from groundbreaking duo Mary Mary. With powerful voices that soar, harmonies that chime and empowering lyrics, the songs on SOMETHING BIG are instantly memorable. From the lively lead single Walking, to the unforgettable anthem Never Wave My Flag and title song Something Big, Mary Mary is on course to drive their indisputable reputation smack into the mainstream. Billboard Magazine s recent review of Walking stated The song s synthesizer-accented, percolating rhythms are immediately arresting, and the mix is seamlessly strung together by the engaging vocal interplay… Walking is the pair s latest track to leave the listener with a bounce in his or her step.
As songwriters, Mary Mary's honesty and passion are unmatched by most contemporary storytellers. Mary Mary's lyrics underscore an unwavering faith and belief in God to conquer the challenges that life sends our way. It is that faith that has connected with fans around the globe and secured an even wider fan base that continues to grow each day.
"In life, we all need to believe in our inner strength to endure the unexpected, to face challenges which confront us, and ultimately survive; we are living in difficult times, but there are infinite reasons to be hopeful," say Erica and Tina.
During their career, Erica and Tina have sold upwards of five million albums. In a remarkable and still ongoing story, Mary Mary's 2008 release, The Sound topped multiple charts and broke several records. A string of awards, including 2 Grammy Awards, an American Music Award, a BET Award, a Soul Train Award, and an NAACP Image Award, among others were racked up for the album.
Mary Mary have made it their life's mission to connect with people all over the world. It s not just about musical achievements, awards, charts and sales, say Mary Mary. That s not our guiding light. It s about helping people…we re committed to our message and purpose.