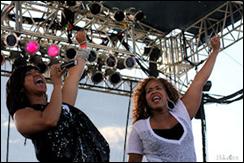 Three time Grammy-award winning American gospel music duo Mary Mary rocked the stage this weekend at Heaven Fest 2010.
Over 35,000 Christian music fans poured into the festival grounds at Union Reservoir in Longmont, Colorado, Saturday to see, hear and worship with some of the best Christian music artists ever, including Mary Mary.
Singing some of their best known songs such as Shackles (Praise You), God in Me and Get up, Mary Mary had everyone on their feet singing and worshiping together.
Mary Mary will be coming back to Colorado in September.
For specific dates, locations and other information about Mary Mary, go to: mary-mary.com.