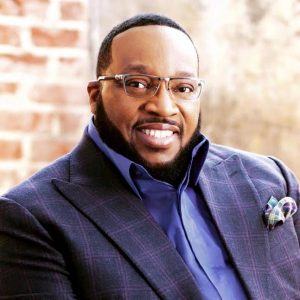 Bishop Marvin L. Sapp celebrates a recent Dove Award nomination, as his 10th album You Shall Live is nominated for Best Contemporary Gospel Album. Sapp previously won the 2011 Dove Award for Best Contemporary Gospel Song of the Year ("The Best in Me").
"I am grateful that You Shall Live was named among the best contemporary gospel albums to be released during this year's eligibility period. I have great respect for the work that The Gospel Music Association and The Dove Awards does to celebrate and elevate Christian and Gospel music artists," says Sapp.  "My life's ministry and message is just that: for anyone wondering 'why' after encountering setbacks and obstacles – with God, know that you will overcome, that you shall live," he adds.
Additionally, Sapp is preparing to host his third annual singles conference in Grand Rapids, Michigan. The conference, Intentional Lifestyle: Saved, Single, Satisfied or Searching, will be held September 2 – 4 at the Crown Plaza in Grand Rapids. The conference will feature a lineup of dynamic speakers from around the country, including Elder Gary Sprewell (California); Evangelist Tiffany Morriar (Connecticut); Pastor Jonathan "YPJ" Miller (Indiana); Dana Chanel (New York) and Tony Gaskins (Florida).
INTENTIONAL LIFESTYLE CONFERENCE – ABOUT THE SPEAKERS
Elder Gary Sprewell

is a gifted minister of the Gospel who tirelessly serves God's people as a preacher and elite administrator; among his many appointments, he is a member of the Bishop's Administrative Cabinet of the Metropolitan District of the Church of God in Christ.

Evangelist Tiffany Morriar

is founder of the Glam Empowerment Network, a non-profit organization dedicated to female empowerment; she is also a devout worshipper and accomplished singer who has shared the stage with artists such as Tye Tribbett, Deitrick Haddon, Michelle Williams, Hezekiah Walker and others.

Pastor Jonathan "YPJ" Miller

is Pastor of Faith Apostolic Ministries in South Bend, Indiana; he is a prolific and engaging minister who seeks to make the word of God relevant to the "unchurched" generation.

Dana Chanel

is founder of Sprinkle of Jesus, which inspires today's generation to create a relationship with God through Jesus Christ

Tony Gaskins

is a nationally renowned life coach and motivational speaker who specializes in relationships; he is a frequent media expert who has appeared on The Oprah Winfrey Show, The 700 Club and the Tyra Banks Show, among others.
Sapp says: "You can't be anything to anyone until you are everything to yourself. This conference is about giving people the tools and the fundamentals needed to be the very best you, so that you are preparing yourself for what God has in store for you."
About Marvin Sapp
Marvin Sapp is Senior Pastor of Lighthouse Full Life Center in Grand Rapids, Michigan and Metropolitan Bishop within the Global United Fellowship. A celebrated recording artist, Sapp has also enjoyed a decorated music career receiving 22 Stellar Awards, 2 Soul Train Music Awards, 2 BET Awards, a Dove Award and 8 BMI Songwriter's Awards for sales, along with many other accolades and honors from  national, regional and local institutions.