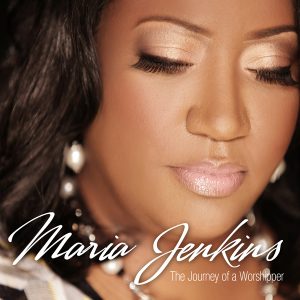 New Day Christian Distribution has announced that it will distribute veteran praise and worship artist Maria Jenkins' forthcoming national CD debut, "The Journey of a Worshipper" (Simply Worship Music/ $12.98 SRP). The twelve-track CD was recorded live at Jenkins' home church, Greater Mt. Calvary Holy Church, in Washington, D.C. where Bishop Alfred Owens Jr. is the pastor.
Known as one the premier worship leaders on the East Coast, Jenkins says this CD has been a long time in the making. "It was a dream come true for me to record this CD with my church family," she says. "It's an even bigger joy that the national will get to hear the music. I appreciate the relationship that I'm now developing with New Day and look forward to a great future of praising and worshipping the Lord with them."
This soul-stirring album was birthed through Jenkins's many ups and downs that shaped her faith walk. "This CD was birthed from experience after experience with God, trials and tribulations, obstacles and triumphant victories that are a testament to the life that I have sought to lead and the amazing power of God to transcend every situation good and bad."
The new hit single, "How Can I," has been serviced to radio stations and is gaining momentum across the country. The CD is currently available for Pre-Order on iTunes and Amazon.