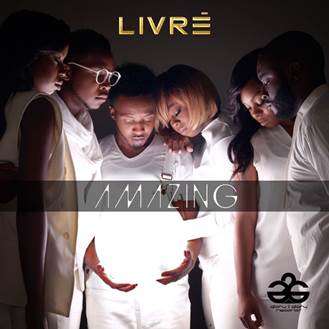 After only a month at radio, LIVRE's new single "Amazing" has climbed into the top 40 on the Gospel Billboard Radio Chart.  Ariel, Ajanee, Malik, Kenny and Richie, are LIVRE'. The urban inspirational worship singers from Bronx, NY have now released the concept video for their fast rising worship ballad hit!
With the release of the "Amazing" video, LIVRE' allows a viewer to step into their everyday world as friends living in New York and as a professional music group in the creative and recording process.  Ultimately, through the poignant lyrics and perfected musical production on "Amazing", LIVRE' pulls listeners into a vertical worship experience and delivers an uplifting anthem.
You can catch LIVRE' on JUCE TV in a 2-part special interview feature on "15th Street Live" Sunday, March 30th, 11:30AM EST and Tuesday, April 1st at 12:30PM EST.  The second segment of their feature will air Sunday, April 13th, 11:30AM EST and Tuesday, April 15th at 12:30PM EST.   The group will also be performing live at the upcoming Young Gifted and Saved Youth Joy Service in Philadelphia on March 30 at Berry Long Memorial United Methodist Church.  On April 13, LIVRE' will minister in song at Milton Vann's JESUS REIGNS Concert at Strait Gate Church, Mamaroneck, NY.
For more tour dates visit www.LIVREMusic.com.
"Amazing" single will be available on iTunes March 25.  Their self-titled debut project LIVRE', onGlory 2 Glory Records/MBK Entertainment  is set to release this summer.