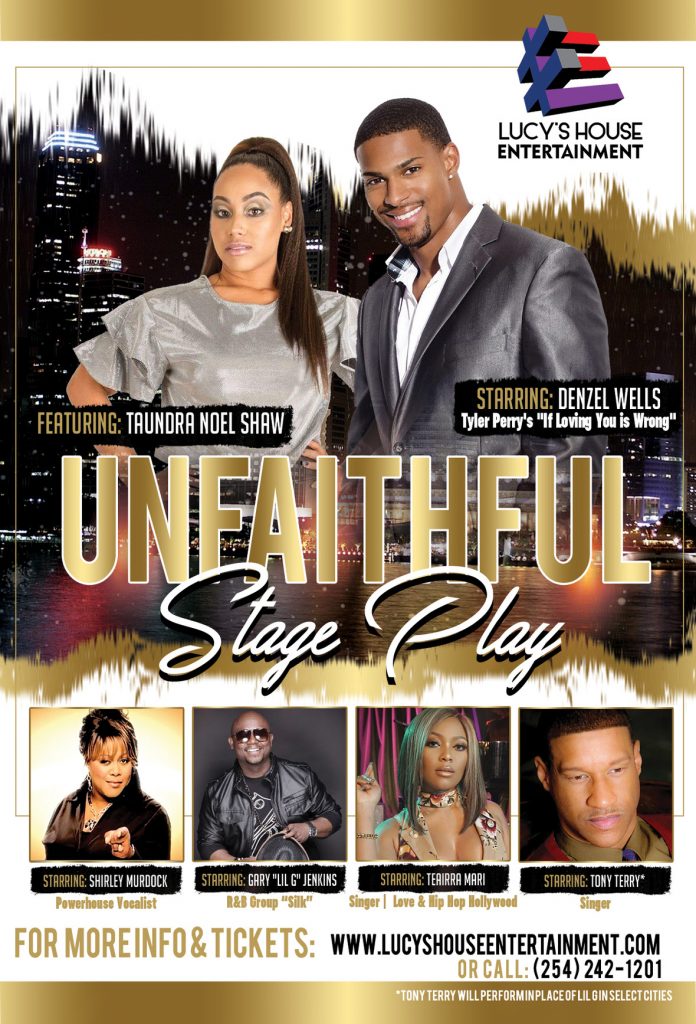 Lucy's House Entertainment presents an All-Star celebrity line-up cast in The Unfaithful Stage-Play Tour. Unfaithful stage Tour features the legendary powerhouse vocalist Shirley Murdock, and in the leading male role, from Tyler Perry's "If Loving You is Wrong," Denzel Wells, also starring R&B singer and TV Reality Star (Love & Hip Hop) Teairra Mari and the legendary lead singer of the R&B group Silk, Gary 'Lil G' Jenkins.
Unfaithful is an emotional, twist-turning, stage play written and directed by playwright Kimberlyn M. Engram that reveals the truth about the seemingly perfect marriage of Kenny and Rochelle Jones. The couple appears to live an idyllic life. While Rochelle owns a thriving production company, Kenny is a First Sergeant in the United States Army. Within a year of being married, Kenny leaves for deployment leaving his wife to take full responsibility of his teenage daughter. While Kenny is deployed, Rochelle becomes suspicious of his behavior. Upon his return, Rochelle notices a change in her husband's inconsistent behavior and the fact that's he's become extremely secretive about his whereabouts. At the advice of friends, Rochelle decides that it's time to "keep her eyes open." Not knowing that his wife has already uncovered some truths about him, Kenny believes that things are working out just as he had planned and decides to present his wife with an unexpected surprise. However, much to his surprise, Kenny discovers that Rochelle has made some secret moves of her own. So, the Question is…"Who's been playing who?"
For more information or to purchase Tickets please visit www.LucysHouseEntertainment.com or 254-242-1201.
THE UNFAITHFUL STAGE PLAY TOUR DATES:
Jun 30: Shreveport, LA (Stand Theatre)
July 13: Charlotte, NC (Knight Theater) 7pm
July 20: Portsmouth, VA (Willett Hall) 7:30p
July 22: Baltimore, MD (UMBC Event Center) 4pm
July 26: San Antonio, TX (Tobin Center) 7pm
July 27: Houston, TX (Stafford Centre) 7pm
Aug 3: Birmingham, AL (BJCC Theater) 7pm
Aug 4: Atlanta, GA (Center Stage) 8pm