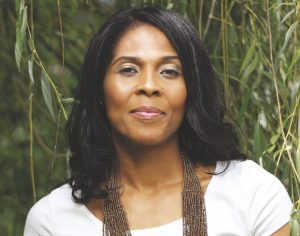 LeChateau Earl Records announces the release of Tekesha Russell's debut album, Wondrous Things, available on iTunes on Tuesday, April 22. Wondrous Things is the fourth release from the label, which was founded by producer and recording artist Damien Sneed and Bishop Iona Locke of Abyssinia Christ Centered Ministries. The album is produced by Sneed and written by Russell.
Releasing her freshman project is one of Russell's greatest musical accomplishments so far in her burgeoning career. Wondrous Things is something new, something fresh, and, with a broad mix of traditional gospel, contemporary gospel, jazz, soul, urban and Latin music, it eloquently demonstrates just how musically diverse the genre of gospel truly is. Wondrous Things has a sound of its own, unlike anything that we have heard in gospel music. The uniqueness of this worship album takes us into the heart and mind of Russell, a gifted songwriter and an amazingly skilled vocalist. The single and title track exclaims how God only does wondrous things.  "I'm really excited about seeing God's promises fulfilled in this CD," says Russell.  "I was able to realize a dream of not just singing but composing and actually seeing my writing published. For a first project, this was a good marriage of composition and musicianship. I actually get to bring maximum glory to God."
Russell is a godly, straightforward and sincere artist whose reputation for a consistent life of holiness, praise, and worship lingers with those who come in contact with her. A conscientious singer, her sensitivity to the Holy Ghost makes her ministry and personality infectious. Exclaims Bishop Locke, "Tekesha is a modern-day David." This project is a compilation of thoughts and conversations with God, as well as observations about the world around her. Russell's favorite song on the project is Life Abundantly, because it is the impetus behind the diverse styles of music on her inaugural project. "I've known Tekesha since my freshman year at Howard University," says producer Damien Sneed. "Her amazing ability to sing absolutely any style of music baffled me then, and it still does today. I'm extremely humbled that I had the opportunity to produce her debut project and to present her to the world on my own label, LeChateau Earl Records."
On Saturday, April 19, Russell, along with Sneed and The Levites, appeared in concert at the Refreshing Springs Church of God in Christ in Riverdale, MD, for a benefit event for an orphanage in Uganda, West Africa. On Wednesday, April 23, at 7:30 p.m., Russell will have her CD Release and Listening Party at Ridgley Ministries Church of God in Christ, located at 9235 D'Arcy Road, Upper Marlboro, MD.
Russell takes inspiration from some of her musical influences including Take 6, Commissioned, Maurette Brown Clark, Twyla Paris and a host of jazz composers and instrumentalists. Russell travels domestically and abroad ministering in song to share her gifts and testimony.
Now residing in Prince George's County in Bowie, Maryland, the Miami native currently serves as a psalmist, music director and praise and worship leader at the Ridgely Ministries Church of God in Christ, in Upper Marlboro, MD, where Dr. Herbert and Herldleen Russell, serve as pastors. Singing is something that comes naturally. Her mother, Karen Joseph, was a singer who directed several groups and choirs. However, it was her grandmother, Missionary Charlotte Smith, who could be found on the Hammond organ or drums on Sundays, who encouraged her to sing and who ensured her place in the church choir.