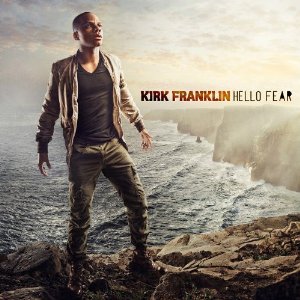 I picked up the CD this weekend just in time to count for Kirk Franklin's first week sales.  The anticipation for "Hello Fear" was over.  I made it a point to go out and get this one and I wasn't disappointed.  It's hard to be disappointed when my Best Buy purchase came with a bonus disk that included 6 of Kirk Franklin's biggest hits including Hosana, Imagine Me, He Reigns, Why We Sing, Now Behold the Lamb, and Something About the Name Jesus.
The artwork of the CD stood out mainly because it was so well publicized before the CD ever hit shelves Tuesday, March 22, 2011.  I smiled as Best Buy featured the album on a table in the front of the store next to Chris Brown's new release.  Excited that Gospel music was being showcased along with all the major players in the secular industry.  I picked it up anticipating the spiritual experience I expected to encounter.
Kirk Did not disappoint quickly setting the tone for what the CD was going to be about.  Conquering your fears and understanding the tricks of the enemy were two themes I took from the album.  The project prompts you to tackle fear and past hurt head on.  The song included the two smash hit singles "I Am" and "I Smile."  If those two songs weren't reason enough to purchase the project their was ample opportunity to get your praise on with the tracks titled "The Moment #1," and "The Moment #2."  A remake of "Something About the Name Jesus," made me tweet my friend John P. Kee and tell him to stop it with them high notes!  John was featured on the song along with Rance Allen and budding superstar Issac Carree.
Kirk Franklin would collaborate with two other legends on track 10.  Kirk united with powerhouse Gospel stars Marvin Sapp and Beverly Crawford to take you to church with the song "The Altar."  Kirk even sung a little on this album y'all.  His voice isn't all that bad as he sings softly but with conviction.
I have to mention his background vocalist that gave most songs on the album it's unique choreographed feel.  These background vocalist weren't ordinary background vocalist as many of them are highly sought after.  Standouts included Issac Carree, Myron Butler, Nicki Ross, Charmaine Swimpson, Faith Anderson, Cheryl Fortune (who is James Fortune's wife), Eric Moore, and Anaysha Figueroa among others.
The album was Co-produced by Shaun Martin who showed his tale out tightening up every track with depth that drew you into the music, without loosing the vocal clarity.
All and all I definitely recommend this one.  I don't know if I can call it his best album because he's had so many hits since his debut with the family in 1993.  But this one ranks right up with them as Kirk blend string instruments with pop beats brilliantly.
In Kirk's letter that was featured on the CD's artwork he said, "Fear may continue to knock on the door, but we no longer have to answer."
Can everyone say HELLO FEAR!