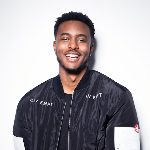 Award winning hip-hop artist KB has a history of success with his previous project 100 dominating the charts. This week, his sophomore release Tomorrow We Live continued the trend. The album debuted on the Billboard Charts at No. 4 on Rap Albums, No. 1 on Christian Albums, No. 2 on Independent Albums, No. 7 on Overall Albums and No. 18 on the coveted Billboard 200. Additionally, on iTunes, the album peaked at No. 3 on the Overall Albums Chart and No. 2 on the Hip-Hop/Rap Albums Chart.
As fans have been showing their support of the album, critics have been doing the same. More and more reviews have been pouring in praising the Reach Records artist and the new release:
"…he has consistently continued to push the envelope with his artistry" – Rolling Out
"genuine"… "check this one out" – Pop Culturez
"…the record takes listeners through a "collection of moments" in a 24-hour period. The result is a profound mix of musical excellence, brilliant wordplay and spiritual gravitas that stands up to the best projects contemporary hip-hop has to offer." – NewReleaseTuesday.com
"Tomorrow We Live is not only a faith-forward record, it's an artistically strong album, featuring some killer arrangements and great delivery from the Tampa-based artist. And in putting them together, listeners are faced with the whole package, and that's a package that they'll want to dig into time and time again." – SoulAudio.com
"KB takes hip-hop out of its comfort zone. He spent time in South Africa to develop his sound and experience life on the edges of society. On 'Sideways,' he shares the limelight with a buzzing electric feedloop. 'I Believe' takes a swirling vocal segment, filters it through a chanting rhythm, and emerges as a striking manifesto about Kingdom rule."– Relevant Magazine
"KB makes a straight masterpiece with his second full-length album Tomorrow We Live…[he] takes faith-based rap to new heights delivering an inspiring, inimitable, and infectious body of work for round two… creating something with massive crossover potential… " – Artist Direct
 In support of the new release, KB will be performing around the country on an intimate "Tomorrow We Live" Tour. For a list of tour dates, please see below.
To purchase Tomorrow We Live, go to iTunes, for more information on KB please visit www.whoiskb.com.
Tour Dates
May 08 – Charlotte, NC – Elevation Church Auditorium
May 15 – Plano, TX – One Community Church
May 16 – Houston, TX – Living Word Fellowship Church
May 23 – Orange, CA – The Vault Night Club
May 29 –Orlando, FL – Calvary Assembly Church
May 30 –Tampa, FL – CrossOver Church
June 5 – Jacksonville, FL – Shiloh Metropolitan Baptist Church
June 6 – Durham, NC – Victorious Praise Fellowship Church
June 10 – Bradenton, FL – Bayside Community Church
June 13 – San Antonio, TX – Now Word Covenant Church
June 16-17 – Glorieta, NM – Glorieta Retreat Center
June 19 – Greenville, TX – RCCG North America
June 24 – Orlando, FL – Marriott Orlando World Center