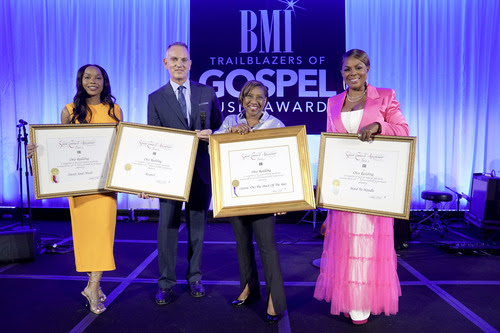 On March 30, 2023, Otis Redding's family attended the 2023 BMI Trailblazers of Gospel Music Awards ceremony in Atlanta, Georgia. Otis Redding's daughter, Karla Redding-Andrews, accepted the four BMI Million-Air awards on behalf of the late legendary soul singer/songwriter.
The BMI Million-Air Awards acknowledge songwriters whose compositions have attained the uncommon milestone of surpassing one million broadcast radio plays. Otis Redding's songs "Sweet Soul Music" (with 4 million performances), "Hard to Handle" (with 7 million performances), "Respect" (with 7 million performances), and the incomparable " (Sittin' on) the Dock of the Bay" (with 12 million performances), which was also BMI's Song of the Year in 1968, earned Million-Air awards this year. Each song was initially composed and recorded in the 1960s.
Karla-Redding-Andrews, Vice President, and Executive Director of The Otis Redding Foundation, accepted the awards thanking BMI for their 60-year partnership and honored her mother, Zelma, for continuing to preserve the legacy of Otis Redding. "My Mom has protected this legacy for over 50 years and behind every good man there's an even more powerful woman. Thank you, BMI, for this wonderful partnership that will continue for years to come when my kids are here." Karla was referring to her sons Justin Andrews, who is currently the Director of Special Projects and Outreach for The Otis Redding Foundation and Jarred who is attending college.
Otis Redding received numerous honors including induction into the Rock & Roll Hall of Fame in 1989 and being named Rolling Stone Magazine's 21st Greatest Artist of All Time in 2004. He was committed to his community and provided scholarships and financial opportunities for disadvantaged youth in Middle Georgia prior to his death in 1967. In 2007, his wife Zelma Redding established the Otis Redding Foundation that provides music education, workshops, private and group lessons as well a public performances. The new 15,000 square foot Otis Redding Center for the Arts, which broke ground in September 2022, is scheduled to open in Macon, GA in 2024. This facility will house a newly designed music education space, equipment for young students and a state of the art performance space. The Otis Redding Museum will remain in its current location, 339 Cotton Avenue, Macon, Georgia and expand to a 2000 square feet with memorabilia from the private collection of Zelma Redding.  https://otisreddingfoundation.org
About the Otis Redding Foundation
The Otis Redding Foundation's mission is to empower, enrich, and motivate all young people through programs involving music, writing and instrumentation. Each partnership and program sponsored since its inception in 2007 supports the philanthropic commitment of Otis Redding to empower and enlighten all young people to fulfill their dreams.
The Otis Redding Center for the Arts
The Otis Redding Center for the Arts is a multipurpose space open to students ages 3-18 who have a desire to explore their interest in all elements of music and the arts. Planning is well underway with a proposed opening in 2024 for the 15,000 square foot facility. The Center will be staffed with Macon's finest musicians offering private music lessons in areas such as piano, audio engineering, strings, and more. Students are encouraged to go beyond and tap into their best effort. The Center believes in the vitality of music and the arts and continues to develop those avenues for youth. Partnerships with Mercer University, Middle Georgia State University, Georgia Southern University and more, help make these efforts possible for our students.