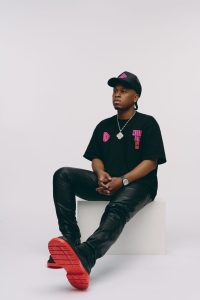 Music fans, rejoice! Jor'Dan Armstrong is back with his signature blend of soulful sounds, catchy lyrics, and infectious beats. With an innate musical talent and a knack for creating captivating melodies, Armstrong is a savant in the music world. His return to the scene is sure to entice and inspire music enthusiasts of all ages. From heartfelt ballads to club-thumping anthems, Armstrong has something to offer every music lover. Don't miss your chance to experience the magic of his music!
2023 has been an incredible year for Jor'Dan Armstrong! After topping the Billboard charts twice in a row with "My God" and "Call", featuring Erica Campbell, and claiming the number one spot on iTunes for his "Church Girls Love R&B" project, he's been on tour with Grammy Award-winning artist Johnathan McReynolds. Now, he's released the perfect soundtrack for your next girl's trip – "Church Girls Love R&B – Girls Trip".
You'll recognize the familiar vibes of urban hits by Chris Brown, Bryson Tiller, or BLXST, but this project is packed with upbeat, inspiring, and encouraging tracks.
Featuring rising R&B stars Kenyon Dixon and Natasha Mosley, plus urban inspirational artists 1K Phew, Wande, and Porsha Love, "Church Girls Love R&B – Girls Trip" is sure to bring the fun and excitement to your next getaway with your besties!
This summer, you won't want to miss out on the latest project from Jor'Dan Armstrong. His unique production style, melodic approach, and heartfelt lyrics make him one of the most sought-after artists of this generation. This project takes us on an emotional journey, exploring the complexity and duality of relationships. It's a thrilling experience, with twists and turns, highs and lows, like every meaningful relationship.
But the fun doesn't stop there. This project is a trilogy of releases, with the first one coming on July 28th, 2023. The second will arrive in September, and the third will be released in December. With this concept-driven body of work, you'll be on the edge of your seat, eagerly awaiting each new release. Don't miss out on this amazing project – you won't regret it!