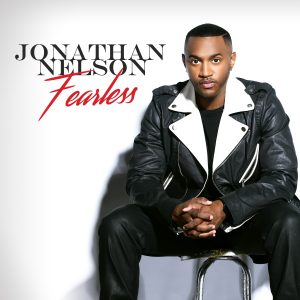 Fearless- How befitting a title for this musical offering. Everything feels different although still familiar! Before we even get into the music- let's start with the packaging and visuals. Jonathan has discarded the clean church boy meets business image that we have become so accustomed to seeing from him and has picked up an edgy and bold (but still clean) alter ego of himself, it seems. It's a risk. It worked!
I have been a Jonathan Nelson fan since his first indie project. I've always thought of his music to be progressive and consistent. .   So, when I received "Fearless", I was anxious to hear it's direction. After all – it's been 3 years since the last release.
However, I'm very eager to jump into the music!
Fearless features 16 new songs and is the fourth major release from acclaimed writer Nelson. I won't greatly elaborate on all of them but instead will focus on the overall project as well as some of the outstanding tracks for me.
Overall, the songs were fresh, relevant and inspiring. However, I was as equally impressed with the overall musical production of the album. Kenneth Shelton and Nelson did an outstanding job!
He starts off with the title cut "Fearless" which features the Truth. A rap feature is already very different compared to any of Jonathan's prior releases. The style and production equally match! The message is bold, strong; the track is very comtemporary. The production on this song gets 5 stars alone! Fearless the song is very inspiring and just was done very well!
Track   3 titled "My hope" is probably my fave on the project. After the review, this is the song I gravitate to the most. "My Hope" is just funky enough to have you bop your head every now and again while being just churchy enough to know that there will be a problem once this song is over in a live setting. What a stellar song that makes you feel re-inspired all over again! "I'm not afraid for you are with me".
Anything Can Happen is the single. I understand why- very inspiring message delivered by a simple melody. But frankly, I thought it was safe and a bit generic. We certainly have heard this vamp many times. With keeping consistent to the theme of this album, Anything Can Happen does not fit as the single.   Nice song but not fresh or fearless.
Baba OH! This song, though not written by Nelson, captivates you in such a way that even if you didn't initially know what Baba Oh meant (like me), you were still singing out loud "Baba Oh". It embodies great lyrics, great melody but the winning factor here was the purity that comes through so evidently. You can't deny this songs' power.
I love track 9- Rehoboth but more so for the fact that it is, again a fresh sound for Nelson. The heart of the writing is definitely classic Nelson. However the musical production captures an 80's/earth wind and fire feel that is fresh and hot.
Forever Settled is a track featuring Dorinda Clark Cole that is reminiscent of Andrae Crouch and Donald Lawrence. Dorinda sounds very "settled" and laid back on this track. Not a favorite of mine but I have not heard this sound from Nelson. So in the theme of Fearlessness, I think it is noteworthy.
Kim Burrell is featured on the track titled "Brand New". Every album Jonathan releases has a song or two that revisits that touch of Maryland/Philly sound we originally knew him for. Brand New is that song! What a great song! In regards to Kim – does she ever disappoint? Nope!
Another one of favorites is the island inspired sound of "I believe". Praise leaders- learn this one! That's all!
Jonathan redid one of his earlier songs "Everything You are" featuring his twin Jason Nelson – still classic, still powerful, still winning. I love this song like I never heard it before! Can this be the next single? Maybe.
I give you glory featuring Tye- choir directors learn this! Church won't be the same afterwards! – That's all.
This is one to keep in the car and will stay as a staple in gospel music. This album is amazing track after track. Extra Extra read all about it- Jonathan Nelson is back!
I give this album 4.8 stars.
-Anthony Ponder