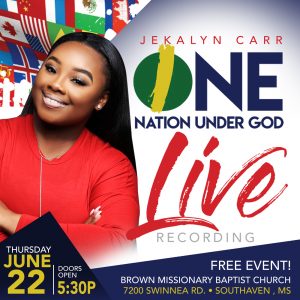 Jekalyn Carr is in the final stages of preparation for the recording of her second live project, which she has already titled One Nation Under God. The recording event will take place on June 22nd, at Brown Missionary Baptist Church in Southaven, MS. Doors will open at5:30 PM for an evening of dynamic worship and ministry through song and word.
Carr's passion has always been seeing the people of God blessed and walking into every promise that He has spoken over their lives. That will remain a very strong theme throughout One Nation Under God, as Carr focuses on corporate worship and spiritual community. She prays that this project helps to foster a global impact and reminded that we are all connected. She states, "I feel compelled to reiterate that we – the people of God – are ONE body. No matter where we are, America, Africa, Russia, we are all connected by the God we serve, and the grace that He has over our lives. This record is a call for all of God's people to unite, removing the limitations of race, religion, denomination, organization, locale, gender, or class. God desires to see His people, and we should see ourselves, as one united body of believers. God's love for us all is consistent. The same love, grace, and mercy that He extends to one, He extends to all."
One Nation Under God comes on the heels of Carr's first live record, The Life Project, which has inspired millions and is considered by many to be her coming of age release. It featured a more mature Carr, and yielded many career milestones, such as her first #1 album, first #1 single ("You're Bigger"), first Grammy nominations, and first Billboard Award nominations.
One Nation Under God is poised to pick up where The Life Project left off and reach even more people around the world and across the globe. The live recording event promises to be a powerful night of music and ministry. The record will include songs written by both Carr and her father, Allen Carr, who is the writer of all of her biggest songs thus far, including "You're Bigger" and "Greater Is Coming." The father and daughter duo has, for many years, shared various relationships, including manager and client, label owner and artist, business partners, and musical collaborators. The family label, Lunjeal Music Group – which Mr. Carr runs and operates – has been the home for all of her recordings, and the two have recently ventured into print publishing, with the announcement of her first book, titled You Will Win: Inspirational Strategies to Help You Overcome, which will also be released later this year.
Great things are on the horizon for Jekalyn Carr, and up next, all roads lead to Brown Missionary Baptist Church in Southaven, MS onJune 22nd for the live recording of what is sure to be another mighty ministry moment.