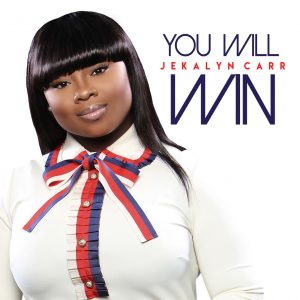 Accomplished international speaker, prolific author and Billboard #1 independent recording artist Jekalyn Carr continues to inspire people as she travel across the world sharing the message of Christ through song with her Billboard #1 single "You Will Win" and and preaching or providing inspiration into the lives of people through her first published book "You Will Win!: Inspirational Strategies to Help You Overcome."
Returning from the British Virgin Islands, inspiring and ministering to the people that was affected by the Hurricane, which was an "amazing turnout and overwhelming response from the locals on the island," states Carr, she preparing to minister in South Africa this week at the PRETORIA Showgrounds. ECG Ministries will be hosting the major event for their youth from all over the country. She is scheduled to be in Montreal Canada, Freeport Bahamas, Toronto Canada and Alberta Canada in the coming weeks as well.
Carr has received numerous testimonies from across the world that "You Will Win" has encouraged them not to live beneath their highest potential, which has led to her launching her first-ever You Will Win Conference, which takes place next week, June 21-22, 2018in Southaven, MS. The conference is about imparting Life Strategies to help you win. Carr has been sharing the winning message to inspire and push people to win in life over their negative circumstances and that they're victorious.The nightly services are free will consist of speakers such as, Jonathan Ferguson and Jekalyn Carr. You can expect life changing messages. This is a conference that will inspire your whole household. The focus of the conference is to educate, offer growth and to help you incorporate God in everything that you do.
For more information on the You Will Win Conference and to register please visit: https://youwillwinconferencejekalyncarr.eventbrite.com/.
Carr, 21, burst on the scene in 2013 and has released four Billboard Top 10 independent gospel albums; Greater Is Coming (2013, #3 Top Gospel Albums ); It's Gonna Happen (2014, #9 Top Gospel Albums); The Life Project (2016, #1 Top Gospel Albums) and One Nation Under The God (2018, #1 Top Gospel Albums). Carr has also earned eight career #1's within the last two years; two on Mediabase Gospel Airplay charts ("You're Bigger," "You Will Win") and six on Billboard's Top Gospel Album Sales chart(The Life Project, One Nation Under God), Gospel Airplay chart("You're Bigger," "You Will Win") and the Digital Gospel Song Sales charts ("You're Bigger," "You Will Win") – – a monumental achievement.
In 2017, Jekalyn earned her first-ever GRAMMY Award nomination and Two Billboard Music Award nominations for her smash-hit single "You're Bigger," which spent six weeks at #1 on Billboard Gospel Airplay chart and was the 2nd most played Gospel song on Billboard Magazine's 2017 Year-End Gospel chart. She also made her television acting debut with a featured role on OWN's original series Greenleaf and featured on its NAACP Image award-winning star-studded soundtrack. She's also been named a POWER 100 by Ebony Magazine as one of the most influential people in the world joining Beyonce, Bishop T.D. Jakes, Lebron James, and Quincy Jones to name a few on that list. This year, she released her first published book and her second consecutive Billboard #1 album (One Nation Under God) and #1 single "You Will Win," which has spent 26 weeks in the Top 5 on Billboard Gospel Airplay chart reaching #1 and maintaining that position for 6 weeks. Additionally, "You Will Win" has generated over 8 million+ audio and visual streams since its release on September 14, 2017 (1M per month).