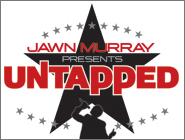 Media personality Jawn Murray and EMI Gospel join efforts to find the best unsigned artist in Gospel Music for "Jawn Murray Presents: UNTAPPED," a music compilation set to hit stores on September 7, 2011.
A music competition, "Jawn Murray Presents: UNTAPPED" features 10 new gospel artists that were judged based on criteria set by EMI Gospel based on feedback by Murray, EMI executives and celebrity judges Dr. Bobby Jones ('Bobby Jones Gospel'), singer and TV talentLexi, Grammy-nominee VaShawn Mitchell and radio host Gerard Bonner ('Bonnerfide Radio').
"The competition is finally over and I believe our top 10 represent a solid collective of potential superstars from varied backgrounds and different styles of music.  I'm glad to be able to use my platform to help these artists gain greater visibility and exposure in gospel music," said Murray.
After deliberating over more than 300 submissions, the "Jawn Murray Presents: UNTAPPED" finalists are (in alphabetical order): Brian Reeves, Charles Butler & Trinity, Derrick Bull & Remnant, FaLawna Barton, Joy Lewis, Lawrence Flowers & Intercession, Madelyn Berry, Tasha Page-Lockhart, Tobbi White-Darks and Tonia Hughes.
"We're amazed at the talented, but unknown, gospel artists we often hear.  Working with Jawn Murray on the UNTAPPED project has been a great way to introduce some of these gifted artists to the world."Ken Pennell, President of EMI Gospel.
One finalist from "Jawn Murray Presents: UNTAPPED" will receive the grand prize of a recording contract with EMI Gospel.  That artist will be announced later this fall.