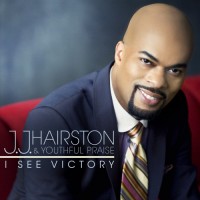 The Soul Train Award nominated urban inspirational music ensemble J.J. Hairston  & Youthful Praise is prepped for the world to hear its most ambitious CD To date. The 17-track collection "I See Victory" (Light Records) was recorded at The First Cathedral in Bloomfield, CT and boasts performances by gospel greats such as Donnie McClurkin, Karen Clark Sheard, Vashawn Mitchell, Jason Nelson and Deon Kipping among others. The album releases to online portals and retail stores everywhere on October 28, 2014. The iTunes deluxe version of the project includes a bonus song and is now available for pre-order with three instant gratis tracks: https://itunes.apple.com/us/album/i-see-victory-deluxe-version/id919206665?ls=1.
"This is the first record where I had a theme before I had a song," Hairston explains. "Usually I start writing songs and I find out what the common theme is but this time I came up with the theme of I See Victory long before I wrote any songs. Years ago, I heard a message Bishop Joby Brady (Potter's House North of Dallas, TX) preached and it was just saying you have to see what you want before you can go after it. I see myself with the victory over everything so I'm going after it and I believe I can have it because I can see it and all of the songs revolve around that theme. That made the writing easier and the songs have a little more depth because they come around a theme."
Leading the spirited choir is also easier than it ever has been for Hairston. "I never set out to be a leader," says the man who took over Youthful Praise circa 2003 when its founder Shawn Maurice Brown retired from the group to became a pastor. "I joined just to sing tenor. Looking back, Youthful Praise taught me to be a leader. I didn't form the group. It was already there when I got there but they made me a leader and that's why I appreciate the group as a whole.  People always ask me if I'm going to go out on my own and do my own thing. I think Youthful Praise is a part of what I do so I'd never make a J.J. Hairston record. It will always be J.J. Hairston & Youthful Praise."
The dynamic CD highlights the motivating track "It Pushed Me" that recently rose to #13 on Billboard's Gospel Airplay chart and "Bless Me" (boasting a cameo by Donnie McClurkin) is #27 on this week's Gospel Airplay chart. For over a dozen years, Youthful Praise has been one of the most popular contemporary gospel choirs in the USA. Their hit songs "After This," "Lord of All," "Resting on His Promise" and "Incredible God, Incredible Praise" have served as the soundtrack to the lives of scores of Millennial-age churchgoers. The group has appeared on national TV programs such as "Good Morning America," BET's "Celebration of Gospel," "Conan O'Brien," BET's "Lift Every Voice," "Lady Gaga & The Muppets Holliday Spectacular" and BET's "Sunday Best."
About Light Records ?For over 40 years Light Records has provided the world with inspiring Gospel music. Launched in 1966 by Ralph Carmichael, the Light Records brand has been synonymous with the best in Gospel music. It's a pioneering force that catapulted the careers of gospel legends such as Andraé Crouch, Walter Hawkins, The Winans and Commissioned. Aside from its legendary Gospel catalogue, Light continues to burnish its legacy today with best-selling projects from a dynamic roster that includes Gospel's First Lady Shirley Caesar, Bishop Paul S. Morton and Dorinda Clark-Cole. Light Records is a wholly owned division of Entertainment One, a leading international entertainment company.