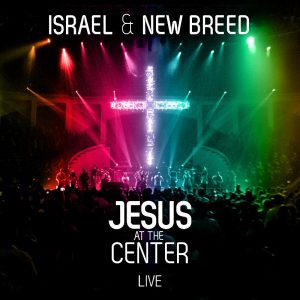 Following two back-to-back Billboard Top 200-selling, GRAMMY Award-winning solo studio albums, Israel Houghton returns with New Breed for their first live recording in five years, JESUS AT THE CENTER, releasing Aug. 14 on Integrity Music. Recorded live with thousands of worshipers at Houston's Lakewood Church, this double-CD, 17 song album with three additional studio singles features Israel & New Breed returning to their roots, delivering new anthems for the modern day church. The recording follows the group's critically acclaimed, GRAMMY Award-winning, A Deeper Level (2007).
Joining Israel & New Breed to produce the studio version of the soon to be released Christian AC single from Jesus At The Center, "Your Presence Is Heaven," is hit maker Ed Cash (Chris Tomlin, Britt Nicole), while acclaimed vocalists Jason Nelson and James Fortune are featured on the studio version of "It's Not Over (When God Is In It)." Other guest vocalists featured on the live recordings are Aaron W. Lindsey,Michael Gungor,T-Bone, Bishop Michael Pitts, Jeremiah Woods, Daniel Johnson, Charlin Moore, Adam Ranney, Tina Baker, Onaje Jefferson, Krystle Harper and Israel's daughter, Mariah Houghton.
"The overarching story of the album is that sometimes we can be so 'churched' that we can lose sight of the 'who, what, why' of worship," says Houghton. "This project simply places Jesus where he is supposed to be. We intentionally removed the metaphors and simply focused on his name."
Co-writing all the songs, except the Bob Dylan cover, "To Make You Feel My Love," and "You Have Me," by Michael and Lisa Gungor, Israel said that it was time to do another live album with New Breed. "We've always been known for what we do live and we felt like we had songs that could serve as a resource to the church worldwide."
"The concept started with the title track, 'Jesus At The Center.' We felt strongly that it was necessary to make sure that these were all Christ-centered songs that would, for the most part, find a place of effectiveness in the worship experience of any church. 'Rez Power,' 'Your Presence Is Heaven,' 'Speechless,' 'Jesus The Same' – these songs accomplish that and resource worship teams and listeners alike," notes Israel.
In addition to the JESUS AT THE CENTER two-disc album, a companion DVD was recorded live in high-definition and features all 17 songs along with behind the scenes footage, story behind the song vignettes and other bonus material. Israel & New Breed will also simultaneously release an exclusive iTunes® LP. The LP follows Houghton's Love God. Love People LP that became the first-ever Christian artist iTunes LP and first LP, mainstream or Christian, which included various interactive capabilities. The JESUS AT THE CENTER LP will include the new music, but also video Work Tapes, a Photo Montage and the "Jesus At The Center" video tutorial.
In 1995, Israel and Meleasa Houghton founded New Breed Ministries, an organization they continue to run and that is comprised of noted musicians and singers who serve within their respective churches and together serve the Church at large. Since then, Israel & New Breed has amassed a legion of followers that crosses generational lines with popularity across African American, Latin and Caucasian listener lines. While blasting down barriers, Israel has been fittingly graced with 2 Gold-selling albums, 3 GRAMMY Awards, 12 Dove Awards, 2 Stellar Awards and a Soul Train Award.
Active as worship leader in his local church, Joel Osteen's Lakewood Church, Houston, Israel has served as worship leader at Hillsong conferences and Franklin Graham crusades. He has written or co-written 11 CCLI Top 500 favorites, been featured on The Tonight Show with Jay Leno, performed on BET's Celebration of Gospel and Bobby Jones Gospel; accompanied Alicia Keys at the 2007 MTV Video Music Awards for a performance of George Michael's "Freedom '90," and performed at the 50th Annual GRAMMY Awards. He uses his own multi-cultural upbringing as a reference point with a desire to draw people of all races, ages and cultures together. More information on Israel & New Breed is available at www.newbreedmusic.com.