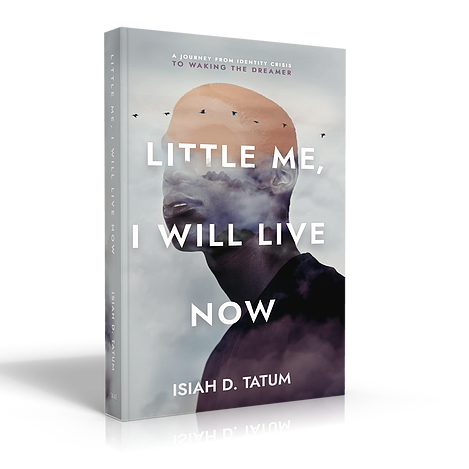 Author and entrepreneur, Isiah D. Tatum, offers to many in our society a well-written, soul-igniting and honest book, Little Me, I Will Live Now: A Journey From Identity Crisis to Waking the Dreamer,which takes the reader on a quest to awaken their inner dreamer and confront past trauma that is keeping them from their God-given purpose.
Isiah D. Tatum helps readers to identify the area(s) of their childhood or past that is holding them back from achieving their dreams, to understand the cost of allowing their past to steal another day of their life, and to realize their dreams are an answer to problems in this world and that lives are connected to their faith and courage to become who they were created to be. With tangible, step-by-step actions to take that can help reclaim a stolen life, the simplicity of Little Me, I Will Live Now: A Journey From Identity Crisis to Waking the Dreamer, is the key to its effectiveness.
"COVID-19 and the most recent racial injustices have shaken all of our worlds. It has revealed that norms we've relied on for years can disappear within days, and some of those norms were long overdue for change," states Tatum. "This crippling uncertainty and trauma have people searching for healing and their true purpose. It's crucial, now more than ever, for people to use their true voices, gifts, talents, and influence to help bring change to our society and this world."
To purchase Little Me, I Will Live Now: A Journey From Identity Crisis to Waking the Dreamer click here. For more information and to connect with Isiah D. Tatum, please visit his website at www.isiahdtatum.com.
About Isiah D. Tatum:
Isiah D. Tatum is a dreamer, visionary, leader whose life's goal is to help others discover purpose in life. Each person is born with greatness inside but has a limited amount of time to achieve that greatness. He believes the only way to tap into greatness is to serve people, overcome fear, and create the life you've always dreamed of obtaining. Tatum vows to die empty and leave a legacy that will inspire generations to dream.He is a serial entrepreneur in Real Estate, Film, TV, and Music. Isiah is a native of Little Rock, Arkansas, and he graduated from Arkansas State University and received a Master's in Entertainment Business from Full Sail University. In 2015, Isiah authored and self-published Finding That Business In You, an e-book on entrepreneurship, which has impacted the lives of many people. Most notably, Finding That Business in You was adopted into the curriculum of the B.E.S.T (Building Entrepreneurs for Success in Tennessee) Program in the Tennessee Department of Correction.