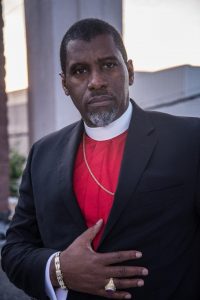 Bishop H. Curtis Douglas is the Presiding Prelate of Covenant Fellowship Alliance and Senior Pastor of Dabar Bethlehem Cathedral and has served God and his community for over 40 years. However, his love for ministry does not stop at the pulpit.
An accomplished musician, composer, choir director and worship leader, Bishop Douglas has assisted a plethora of churches in developing their music ministries. But it was not until 2012, when he decided to translate scripture to music, thus the appropriately titled Scriptures in Song project was birthed.
More than half a dozen years later, insert the latest offering from Bishop H. Curtis Douglas and The Dabar Bethlehem Cathedral Choir entitled Amazing Things. This independent release was recorded LIVE in New York City and features amazing production, impressive lead vocalists and earnest songwriting, reminiscent of the 90's when choir chords reigned supreme. Songs like Great God and Jesus Is Everything to Me prove why Bishop Curtis and DBCC are necessary to Gospel music and the choir sound for such a time as this.