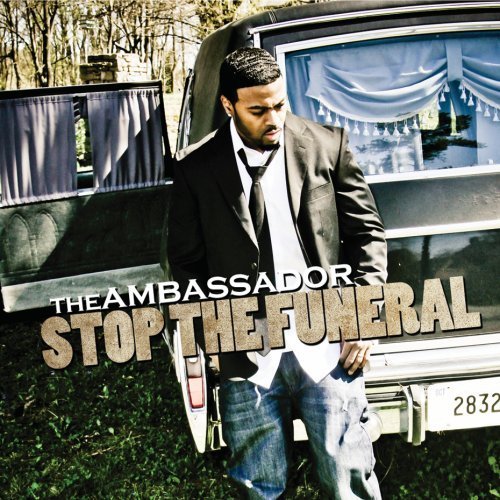 The Ambassador recently took time from a hectic schedule to discuss Stop The Funeral, give advice and share his world in an exclusive interview for uGospel.com.  Born William "Duce" Branch, The Ambassador represents what appears to be two clashing cultures; the Kingdom of God and Hip Hop. He stands as a shining example of how Hip Hop can be properly submitted to God while avoiding the typical corruptions commonly associated with it.
Making his mark in music with a groundbreaking debut solo album Christology: In Laymen's Terms, The Ambassador began delivering intense scripturally rooted lyrics set in poetic, dynamic flow. His successful sophomore album The Thesis, and Grammy and Stellar nominated project HIStory: Our Place In His Story (with The Cross Movement) soon followed. His third solo offering, The Chop Chop: From Milk to Meat proved to be a deep, weighty collection for Christians that are hungry for real truth and ready to mature.
It's been almost three years since his last project and having weathered a tumultuous past 2 years; The Ambassador has emerged with a rich living testimony and is pressing forward with the most anticipated release of his career.
His fourth solo offering, Stop The Funeral, marks his first release at his new label home, Xist Music. Stop The Funeral is masterfully produced and lyrically enthralling with The Ambassador's signature unadulterated messages of God's resolute standards, this time with an emphasis on grace and truth, shared through testimonials of his struggles and failures.
uGospel.com: Where does your passion for Christian Hip Hop come from?
My passion comes from two places:
1. A general passion to see Christ adored and honored in every place and among every people, and therefore in the hip hop culture.
2. Out of my sense of camaraderie and solidarity with the hip hop context, which I believe is in desperate need of missional engagement, and gospel bombardment. Colossians 1:16 says that all things were created by Him and for Him, and the means that even our art and our cultural environment can be submitted to His lordship. I grew up a "lover" of hip hop, and eventually became such a lover of Jesus Christ that I wondered if those two could relate to each other in any way. It turns out that the Scriptures supports all things being redeemed and estranged things being reconciled by the cross of Christ. I want to be an agent of change and a spokesmen for the Christ among those who are tuned into, or avid supporters of, hip hop artistry.
uGospel.com: As a Christian Hip Hop Artist, do you ever feel prejudged by others in the Gospel Music Industry?
Well, I work hard at improving the likelihood that the Gospel Music Industry will see the Christian hip hopper that is faithful to the gospel as an ally and an extension of what God is doing in music.  I do believe the marginal role and the very scarce presence of Christian hip hoppers within the Gospel Music sphere indicates that there is a prejudice that exists. I don't take it personal; I believe objective facts reveal that "it is what it is." This makes me all the more determined to show myself approved…a workman who does not need to be ashamed. I want to be good at my craft (rap), and be an aroma of Christ who becomes all things to all people that by all possible means I might win some (1 Corinthians 9:22).
uGospel.com: What inspired you to title your album "Stop The Funeral"?
I was seeking the most succinct and picturesque way to proclaim the fact that even though "death," "decline," "destruction," "dismay," and the like, are all around us, plaguing us daily, there is God who has a gospel that can "stop the funeral." At a very low point in my life I thought the brighter days of my life, my ministry, and my key relationships were over, but the Lord encouraged my heart with His faithfulness. He reminded me that He sent His Son to put an end to sin and death, and that even relates to the "metaphorical" death that we experience. So I figured that the title of the album and the content of the album would be a great way to share the good news to believers and unbelievers in Christ, that "death" does not have the last laugh. There is hope and I am a living example of it.
uGospel.com: How is "Stop The Funeral" different from "The Chop Chop: From Milk to Meat"?
Well, STF is the most personal album I've every done, and the most transparent and introspective work as well. This is the first time I feel I have had to come from behind the "official teacher's desk" because I feel like no one wants to hear me "lecture" them about theology. In this album I have taken the stand, and I am in the "witness stand." I am not lecturing, I am testifying about the hope that can be found in Christ especially when you find yourself in a "pit" or a "mess" either because of you or someone else. STF is also a bit more commercial than Chop Chop. I use a lot of singers instead of rappers, and it is using primarily people I have never worked with before. I do not have my tradition "interludes" on the album as in times past and I believe this album is more timely than the last one. It just so happens that there has been more "falling" than you can shake a stick at. STF is providentially timed in a way that Chop Chop wasn't. To God be the glory.
uGospel.com: We commend you on the lyrics and metaphors present on Stop The Funeral. What inspires your lyrical content?
Thank you. I am not sure if the long sabbatical produced a revival of lyrical creativity or what. I just had a lot of time on my hands, and used it to dig deep. I "kept my ear to the streets" as they say, and I just sought to do different things. The Lord just honored that I believe and produced what we have on this album.
uGospel.com: On your track "Get With Us" you mention that there were people who wanted you to take a break. What inspired you to persevere and continue to make music, despite the wishes of others?
Well, I ignored them at first, but when everything "hit the fan," I ended up taking the break that I would not take at first. Even though some wanted me to stay gone longer, they were people that were not actively involved in my life at that time so they were speaking with no real basis. All the people who were in my inner circle and daily life at the time were urging me to get back to what the Lord has called and graced me to do. They urged me not to try to earn my favor with God, but that Christ has purchased my forgiveness and satisfied the wrath of God for me. As the Lord stabilized my marriage and family, revitalized my soul, and renewed my zeal, I sensed that the greatest thing I could do was to not "stay down wallowing in guilt and shame," but rather to display the power of grace to empower a sinner to respond properly to the God who forgave him. In doing music again, and boasting in the Lord Jesus, I believed I would be honoring the Lord and helping others who have, or will, experience something similar to me.
uGospel.com: On "Mind Made Up" you briefly reference the harsh critics that you have. How do you respond to the negativity of others, in a way that is of God?
Yes.  This is not easy, but I try not to say too much to my critics. I am hoping that the fruit I bear will speak for me. I have not always succeeded but I am determined not to revile back, or respond in kind to negativity. By grace this will continue.
uGospel.com: "Pop Pop Pop" mentions giving up worldly activities that many people do for recreational purposes. What advice would you give them to fight temptation? Or to prevent relapses for those who no longer condone such activities?
The crux of "Pop Pop Pop" is fact that we should turn from the activities that end in destruction. If we turn, then we don't have to have our "bubbles" burst. However, if a person falls into the trap, they should know that God may have to pull the rug from under them in order to help them break free. God says that there is always a way of escape from temptations but we don't always take it. My advice is stay surrounded by loving people who will not throw you away if you fall. Confess to them your struggles before the struggles consume you. Know that you can't "play" God; if we play with fire we will be burned. If you sin, know that you have an "advocate with the Father, Christ Jesus the righteous."
uGospel.com: How did you link up with Canton Jones for your track "Favor"? What is a favor God has recently done for you?
Canton Jones surprisingly to me found my number from someone and called me just tell me that he loved me, and that the Lord Jesus was not through with me. That made such an impact on me that he came to mind when I received the track for "Favor." As I thought about the hook and the sound that I wanted, Canton seemed like a perfect match for it.
uGospel.com: A few songs on "Stop The Funeral" have a live band sound. Are you influenced by old school Hip Hop?
Most def—I have been a student of hip hop since the 80's. I wanted a way to contribute something different to the current Christian hip hop culture, and a guy by the name of Kelvin Wooten helped make that reality. He is a musical genius and has the "live sound" down pat. I thought this would be a great experiment to come back with an atypical sound for Ambassador. I think it turned out great.
uGospel.com: How did you link up with Jessica Reedy for your track "Crumbs"? What would you tell someone who feels they are unworthy to go to church because of their sins?
Jessica Reedy was a friend of Sean Simmonds and the Xist Music family. I didn't know her personally. They were pushing for her and I wanted to be a team player, so I agreed to "try her out." Wooooo—she knocked it out the park. "Crumbs" is one of the most meaningful songs on the album because I felt this unworthiness because of sin in an unhealthy way. We are unworthy but this ought not make us feel like we should walk away from the Lord, but rather walk toward Him. Unworthy does not mean "unwelcomed" but that is what we feel sometimes. I would tell any one who feels unwelcomed that this is what makes Jesus unlike us, and unlike religious legalists. He died to bring us close, and says, anyone who comes to Him, He will in no way cast out. Then I would show them this truth all throughout Scripture.
uGospel.com: What was the energy like in the studio when all of you guys recorded "The Reunion"?
Sorry to disappoint you, we all recorded in separate places so the energy was low. I kind of hate the fact that everything these days is so "community-less," and so "on the fly" that we rarely get in the same room and feed off each other. Something has got to change because there is something special about "cookin' the stew" together. May the Lord do that next time.
uGospel.com: What message do you want to convey through your album, "Stop The Funeral"?
I want to communicate that "it isn't over until He says so." Sin and death has been defeated and we can find life in Jesus Christ. The Ambassador is Exhibit A that where sin abounds, grace super-abounds. Jesus can stop death from either happening or from being final through resurrection. He can revive the soul, relationships, ministries, hopes and dreams. He is compassionate and will be there even if no one else is. He stops the funeral for His glory and I pray this album represents that truth well.
Interview by Michael  Jones for uGospel.com